Blind and Deaf Dog Tossed Out of Car
Saturday, June 30th, 2007 at 9:18 am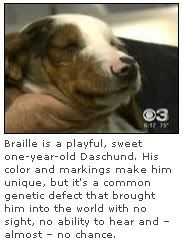 A sad story with a not so sad ending. 🙂 How could someone be so heartless as to toss a little 1 yr old puppy out, let along a puppy that is deaf and blind? I will never cease to be amazed at the cruelty of people! Luckily this is one little dog whose story will have a happy ending.
This story comes to us from Wilmington, DE.
Braille is a playful, sweet one-year-old Daschund. His color and markings make him unique, but it's a common genetic defect that brought him into the world with no sight, no ability to hear and – almost – no chance.

"He was brought to us by a woman who said someone pulled up outside of her house and just tossed this dog out of the car onto her front lawn," said Nancy Fitzgerald of the Delaware Humane Association.

Blind, deaf, and in a strange place, Braille was extremely lucky to end up at the Delaware Humane Association. The no-kill shelter teamed up with veterinary opthamologist Dr.Jeffery Bowersox to give Braille the surgery he needed to remove defective eye tissue that could have led to infection.

"He's adapted to not having sight. We just want him to be pain free. We want him to live comfortably," Bowersox said.

"He plays well. He plays with the other dogs. He greets people. He's a very active little guy. He just doesn't have his sight faculties," Bowersox continued.

And he never will see. Dr. Bowersox stitched Braille's eyes shut. But with his senses of smell, touch, and taste, this little guy is ready for a good home.

Even though Braille is energetic and spunky like young dogs his age should be, the folks at the shelter said his favorite thing to do is just cuddle up on someone's lap.

"I think it makes him feel more secure. He knows where he is, and he's sort of grounded by that," Fitzgerald said.

He also thrives with other animals. Humane officials said the best home for Braille would be with a loving family who has another dog to serve as Braille's friend and guide. (KYW.com)
The saddest thing is that what that person did in abandoning (trying to be tactful here) Braille may have been the best thing that could have happened to him because anyone who could do something like that would never have taken the care the dog needed and now he has a chance.
Email This Post
Like this post? Subscribe to my RSS feed and get loads more!