Boo Boo Takes the Record for World's Smallest Dog
Thursday, October 4th, 2007 at 8:34 am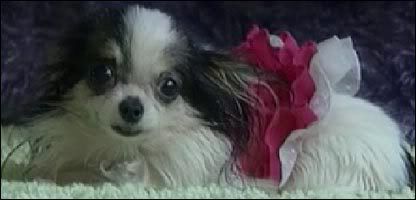 Boo Boo, a tiny Chihuahua, measuring in at only 4 inches tall has claimed the 'World's Smallest Dog' title according to the Guinness Book of World Records.
From Raceland, KY, Lana Elswick, Boo Boo's owner, said that she was as small as her thumb when she was born and although not much bigger now, only about the size of a mobile phone, she is a total 'diva.' Looking at her picture, I can believe it! 🙂
Boo Boo stands just 4″ tall, 6 1/2″ long and weighs only 1 pound 4 ounces!
Tiny dogs are not new to Elswick, she has 25 of them, has
been breeding the tiny longhaired chihuahuas for 19 years and even had a sun room built just for them.
Boo Boo was one year old in April and in May at an annual spring fling event at Ashland-Boyd County Dog Park, she had Boo Boo measured officially.
"Terri Tomondi did the measuring," she said. "She's a vet tech and also a notary and could officially measure the dog."
She also had to have witnesses, a vet to certify the the pup's birth date and have a video made.
"I didn't send it in until June and I looked on the Internet and a dog named Ducky was named the smallest dog," Elswick said.
Elswick received word on Sept 10 that Boo Boo took the record and received her official certificate on Sept 22.
Source – The Ironton Tribune
Email This Post
Like this post? Subscribe to my RSS feed and get loads more!