Boxer Dog Adopts an Unusual Kid
Saturday, March 8th, 2008 at 7:53 am
And by kid, I do mean 'kid' as in a baby goat. Lilly, as the baby goat is known, was abandoned by her mother when she was just a few hours old and owner Elizabeth Tozer then began to hand rear the baby. Billy the boxer took an immediate liking to the little abandoned kid and adopted her as a surrogate father.
He's become Lilly's constant companion, he sleeps with her, licks her clean, and protects her from any dangers at Pennywell Farm wildlife centre at Buckfastleigh, near Totnes, Devon.
Elizabeth said: "Lilly follows Billy around which is really quite amusing to watch and Billy sleeps with the goat and cleans her mouth after she feeds."
Needless to say, this unusual pair has garnered some attention and people at the animal center are keeping an eye to see how things turn out with the inseparable pair.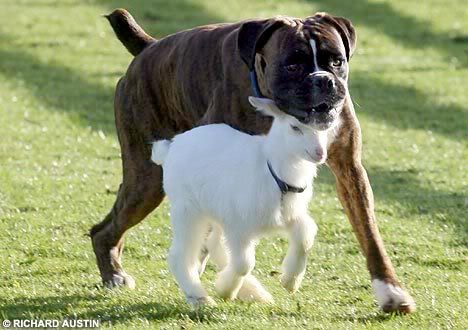 Source Daily Mail
Email This Post
Like this post? Subscribe to my RSS feed and get loads more!