Boy Ask for Donations to Animal Shelter for Birthday
Tuesday, August 21st, 2007 at 9:39 am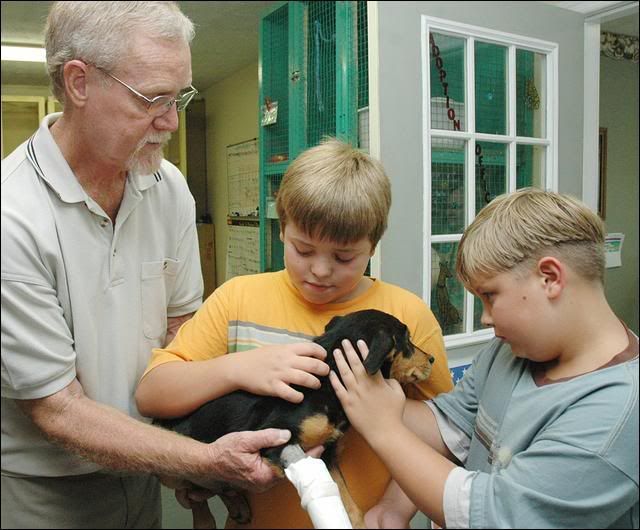 It's wonderful to see children in this day and age, with all the violence and abuse in the air, requesting that rather then get birthday gifts, people bring donations for a local animal shelter.
Jacob Johnston and Cade Bolen of Athens, AL, for their recent tenth birthday, which they celebrated together, asked guests to bring donations which would go to The Dog Pound, the local animal shelter, to help dogs in need. They did this in memory of Jacob's mom, Kim, who passed away recently.
The first recipient of their gift was a dog who was rescued from a portable toilet. Injured and covered in feces, appropriated named, PortaJohn, the little dog was found by Bert Dain, owner of Aerial Sewer.
Taken to The Dog Pound, vet Robert Pitman, cleaned him up, removed an infected leg bone and reconstructed the top of his foot.
The Dain family decided to adopt the little guy and picked him up on Monday to take him to his new home.
Anyone interested in making a donation to the Kim Johnston Fund can call The Dog Pound at 256-771-7889.
Email This Post
Like this post? Subscribe to my RSS feed and get loads more!