Breeder Charged with 7 Felony Counts of Animal Cruelty
Wednesday, July 30th, 2008 at 8:58 am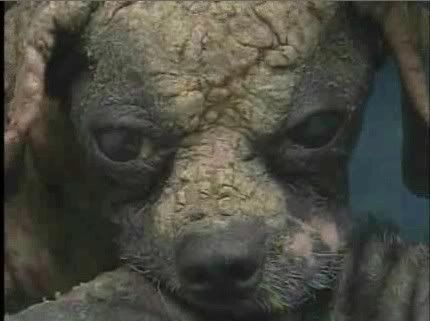 Lester Farmer, 54, of 6612 Bridgersville Road, Elm City, NC, has been charged with 7 counts of felony animal cruelty, one for each of the dogs that were seized from his home. Farmer bred Shih Tzus but the dogs that authorities rescued bore no resemblance to any Shih Tzus I've ever seen!
Hairless, diseased, infected, these poor dogs are in horrible shape and if they do all recover, it will take months.
Wilson County Animal Enforcement officers seized the dogs and transported them to For the Love of Dogs, a non-profit shelter and clinic, at 5146 Quaker Road in Wilson.

"This is one of the worst groups I've ever had the opportunity to help," said Max Fitzgerald, who operates the shelter.

The shelter is trying to nurse the dogs back to health. All have severe mange, likely caused by months of neglect in a poor environment, according to veterinarians.

"These dogs were in some of the worst shape we've seen," Fitzgerald said.

National Shih-Tzu groups are working with Fitzgerald's shelter to take and eventually find adoptive homes for the dogs.

Farmer is being held under a $10,500 bond. He was scheduled for a court appearance Friday.

Maj. Mickey Wilson, with the Wilson County Sheriff's Office Animal Enforcement Unit, said Farmer used to breed the dogs.

"The main thing is, he wasn't getting them medical treatment…. When I asked him why, he said he's trying to treat them some, but he just couldn't afford it," Wilson said.

Fitzgerald and others said that until recently, similar cases of animal abuse were often brushed aside.

The Sheriff's Office took over animal control in 2007 after numerous complaints, including the handling of a case involving under-nourished hound dogs.

In about a year and a half, officers have investigated close to 30 animal cruelty cases.

"We take these cases very seriously. We've made a lot of felony arrests," Wilson said. (WRAL)
There is no way there can ever be an excuse for anyone letting a living creature get into these conditions. People who do this seriously need a taste of the same medicine they deal out! You hear that they have no money, well what happened to all the money they made breeding? True lovers of the breed do not let their dogs get like this!! There is no way this man could have been a reputable breeder. Those poor dogs! Thank God help came in time!
You can watch a disturbing video below about the rescued dogs, it is so sad that anyone could do such a thing!!
Lester Farmer Charged with 7 Animal Cruelty Counts
Email This Post
Like this post? Subscribe to my RSS feed and get loads more!