BSL Bites Livingston County, MI – VIDEO
Tuesday, May 20th, 2008 at 9:28 am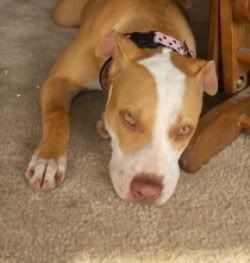 Damn all irresponsible and stupid dog owners!! You've done it again! A breed specific legislation ban has been passed in Livingston County, MI.
Pitbull breeds, which tend to be the highest population in many shelters county wide will no longer be adopted out in Livingston County, they will be killed!
Because of two incidents where two people were mauled in Iosco Township last September, the director of the Livingston County Animal Control has been working for stricter laws for "bully breed" dogs.
"If I did nothing, I couldn't look at myself in the morning," Anne Burns, director of the Livingston County Animal Control, said.
Burns proposed a policy which discontinues adoptions of Staffordshire Terriers, American Bulldogs, Pit Bull Terriers, and American Pitt Bull Terriers from the shelter.
"I'm not banning pit bulls by any means," Burns said. "I'm just not going to adopt them out to the community that could be a potential for extreme harm."
Although residents packed the the meeting last nite and owners with bully breed dogs lined up outside to show how social and friendly the dogs could be, the County Board of Commissioners passed the new legislation.
Not only will pitbulls not have a chance of adoption in Livingston County, if they're found wandering loose and taken to the pound, dogs without and ID would be killed in four days. Dogs with ID would have seven days and their owners would face fines and possibly even criminal prosecution for having a dog at large.
Under the new rule, any stray, unlicensed dog considered dangerous or a bully breed that is picked up or surrendered to animal control faces possible euthanization. If it does not have a "collar, license, MDA tattoo or other evidence of ownership," the dog will be held for the state-mandated period of four days, "or seven days, with evidence of ownership," the resolution states. If not claimed by the owner, who must show proof of ownership and pay the required fees, the dog will then be euthanized.

Breeds affected by the new rule include pit bull terriers, American pit bull terriers, American Staffordshire terriers, American bulldogs, mixes, or any aggressive dogs. The resolution defines an aggressive dog as one which has an "observed or historical behavior that makes the animal a danger to the health and safety of people or other animal(s)." (MLive)
BSL in Livingston County, MI – Pitbull Adoption Ban The new ban will go into effect immediately. Burns says at this time there are no 'bully breed' dogs in the shelter and although she has not counted up the animals that come in by breed, she estimates that 5 percent or fewer of the dogs that come in qualify as a "bully breed" or "aggressive dog" as defined in the policy.
Breed-specific laws, like the policy under consideration by Livingston County, are ineffective, said Marcy Setter, a spokeswoman for Pit Bull Rescue Central, a national organization based in Missouri.

"They don't target the problem," she said. "The problem is irresponsible owners letting their dogs run free. I can show you umpteen incidents of varying breeds attacking humans. It's not a breed issue, it's an owner issue."

Pit bulls are a media-created monster, she said.

"They're not the first breed," she said. "In the '70s it was German shepherds, in the '80s it was Doberman pinschers and in the '90s it was the rottweiler. If you make a law based on looks, you're doing canine profiling."

Singling out specific breeds of dogs is not appropriate, agreed Rochester Hills veterinarian Stephen Steep, past president of the Michigan Veterinary Medical Association.

Several factors determine a dog's tendency to bite humans and other animals, said Steep, including the animal's heredity, early experiences, training and physical and behavioral health.

"You have to look at the individual dog," Steep said.

Owners shouldn't shirk their responsibilities — including socializing their pets, he said.

"This is a people problem, not an animal problem," he said. (Detroit Free Press)
Why don't we try a ban on the idiots and irresponsible owners that don't train and socialize their dogs, that actually train them for aggressiveness, that don't responsibly contain and leash their dogs? That's where the problems and responsibility lie… period! Now more innocents will be killed because of man's irresponsibility!
Email This Post
Like this post? Subscribe to my RSS feed and get loads more!