BSL Kills Another… But Wait, There's More to the Story…
Monday, February 23rd, 2009 at 7:33 am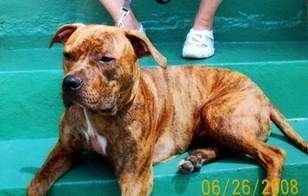 Rock, the dog that died in the hands of the Society for the Prevention of Cruelty to Animals of Cincinnati, has paperwork that lists him as a American Bulldog mix, not a pitbull, not an American Staffordshire terrier, not a Staffordshire bull terrier and not any dog that is a mixture of the breeds, which are the banned breeds in Cincinnati, OH.
It's often very difficult to identify a "pitbull" by looks which is one of the things that makes BSL an even worse scourge then is already is.
Paulette Evans admits she made a mistake when she left the door open to dry her just cleaned carpets.  She thought her 13-month-old dog, Rock, who was gift from her son after her husband died, was asleep in the house when she left for work.  Unfortunately he'd snuck out of the house and thought he'd do a little roaming, basically signing his death warrant.
When a neighbor called Paulette to let he know that Rock was out, she rushed home and found him tied to a neighbor's fence.  The neighbor told her that he was calling the SPCA and police about her pitbull.  Paulette denied that Rock was a pitbull.
Then a SPCA worker showed up she also told him that Rock was not a pitbull.  The worker, who was unsure of the dog's breed, took a picture with his cellphone and sent it to his boss who said the dog was a pitbull and order the worker to seize the dog.
"To him, it looked like a pit bull. It's the kind of thing where you know one when you see one," said Andy Mahlman, the SPCA's operations manager.
Not only was Paulette's beloved dog taken, she was also charged with harboring a vicious dog, failure to obtain insurance on a vicious dog and failure to register a vicious dog.
Paulette was denied even the opportunity to see her dog and it wasn't until she went to court to fight the criminal charges against her that she even found out that Rock had been dead for over a week. No one ever called, no one told her anything. Her dog died in a cage, in unfamiliar surroundings, without even the comfort of a familiar face.
"I died right there. My heart broke," Paulette said.
The SPCA said Rock's death was due to parvo although he had been vaccinated by her vet and again by the SPCA when it seized him.
Paulette could not even have the cold comfort of being able to get Rock's remains. The SPCA got rid of him, along with all other animals killed at the SPCA with a removal service and he was dumped in a mass grave.
"I still had a right to find a home for Rock," Evans said through tears.
Oh, all the charges against Paulette were dropped, no dog, no charges.  Wasn't that nice?
Paulette is suing is the SPCA and the case will come up before Common Pleas Judge Steve Martin on March 17.
So, is this a case of mistaken identity? Or just another pitbull killed by an unfair discriminatory law?  Does it matter?  One way or another it should never have happened.  Since 2003, Cincinnati laws have banned pit bull terriers, viewing them as vicious and dangerous, unless they are registered with the city and have appropriate insurance.
BSL has caused the death of thousands and thousands of innocent dogs across the country in a stupid and misguided attempt to protect people from a threat they know nothing about except the skewed view the media portrays and isolated incidents at the hands of irresponsible owners.  Yes, there have been some terrible and horrific incidents, there's no denying that but in the hands of the wrong person, horrible things are going to happen.
But because of thugs, idiots, tough guy wanna-bes and other irresponsible owners, pitbulls, once one of the most beloved breeds, once called the "nanny dog," is now the most maligned, vilified and abused "breed" of dog there is.  When are people going to wake up and stop killing innocents?  When are people going to start placing the blame where it belongs?
Email This Post
Like this post? Subscribe to my RSS feed and get loads more!