Cagata & Accomplices Facing Over 100 New Charges in 'Rescue Scam'
Sunday, October 5th, 2008 at 7:43 am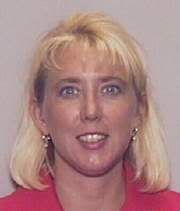 UPDATE 8/31/09 – 120 Animal Cruelty and Abandonment Charges Plea Bargained to 2 Misdemeanor Animal Abuse Charges
Carrie Cagata, owner of My Best Friends, Inc. rescue and accomplices, James Cullen and Shannon Kraham, who were rescuing shelter dogs and selling them for profit and leaving the ones they couldn't sell to starve or die at 'the farm,' are now facing additional charges.
They must have really pissed some people off with their 'rescue scam' because this is the most serious I've seen the system take something like this in a while aside from multitudinous charges laid against puppy millers. It's about damn time too! Most likely there will be some plea bargaining and reduced charges in the end but hopefully just the sheer quantity of charges will remain enough to add up to a stiff sentence! Trash like this needs to be removed from society!
On Monday, Lee County detectives leveled 120 additional charges against Cagata, 40, and two other suspects in a Fort Myers animal adoption scam that resulted in the maltreatment of scores of dogs and cats.

Cagata, the alleged ringleader, and her alleged accomplices, Shannon Kraham, 25 and James Cullen, 29, originally each faced 60 felony counts of animal cruelty and 60 misdemeanor counts of animal abandonment, according to the Sheriff's Office. Cagata, who turned herself in at 11 p.m. Thursday, has been re-arrested on the additional charges.

Detectives added one felony count and one misdemeanor count for each animal veterinarians have deemed maltreated.

Each felony count carries a maximum prison sentence of five years; each misdemeanor count carries a maximum one-year sentence. (Naples News)
Wonder if this bitch is still smiling now??
Cagata turned herself in on Thursday and Graham and Cullen were already in jail being held on 160K bond.
The rescued animals which were suffering from various ailments, including bloody diarrhea, emaciation, wasting of muscles, dermatitis, fleas and ticks when rescued, are slowly recovering and recuperating. Lee County Animal Services took custody and some of the animals are at the local Humane Society, as well as Collier County Domestic Animal Services in Naples, to help with the overflow. They are working on gaining permanent custody through the courts right now so that when the animals are well, they can be adopted.
"They are certainly in a lot cleaner place, but some are still showing signs of the care that they were in, but we are treating them," spokeswoman Ria Brown said.
Three former employees tipped off investigators to the abuse.
Lee County sheriff's Deputy William Dunaske's description of the Jackson Road property known as 'the farm' is just horrific!
"The floors were partially covered with urine and feces. There was feces in the bathtub. The stench was such that I could barely stand to be in the house. In the laundry room, I found a terrier. The dog was so thin that I could not only count ribs but vertebrae as well. The dog's gums were very pale, almost white.
"There was a shed behind the house containing numerous cats. I did not enter this building because of the stench. I could see through the front door numerous cats in cages and crates. The litter boxes were overflowing. I viewed pictures taken inside by Animal Control Officers and could see that most of the water bowls were not only empty, but contained dust and dirt. 'Cagata' was written on the top of one of the crates.
"Also behind the house were several kennels containing dogs. The floors of the kennels were partially covered with urine and feces. Some of the dogs had open sores. Many of the dogs did not have water available to them. There was one tan dog in particular that was running in a tight circle. Animal Control Officers told me it appeared to be due to a condition called kennel craze. Dogs develop this when they are confined in a small area for a long period of time. The dog learns to hold its head to the side and only run in circles."
Personally I think we should just lock them up at 'the farm' where there innocent charges were left to starve and die and save the taxpayers some money. No need to worry about too much food, they don't deserve any better treatment they they meted out to the dogs and cats and other animals they were 'caring' for! Now that would be justice!
Email This Post
Like this post? Subscribe to my RSS feed and get loads more!