Canine Blood Donor Program Launched
Thursday, February 28th, 2008 at 8:05 am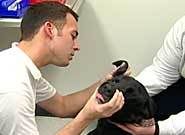 What a fantastic idea and way overdue! UC Davis has launched a canine blood donor program to save the lives dogs in need of blood transfusions. Every year 200 to 300 dogs at the hospital need transfusion due to surgeries, kidney failure or other reasons and this new program will ensure that there will be canine blood on hand as necessary.
The program will be based at the William R. Pritchard Veterinary Medical Teaching Hospital and will need to screen about 1,200 dogs donors to find 300-400 qualified donors that will be able to donate on a regular basis. They hope to become the largest blood bank for dogs west of the Mississippi, where vets can request any one of the 13 blood types at no cost.
Yes, dogs have 13 different blood types, something quite unknown to me, and the preferred donor type is dog erythrocyte antigen 1.1 negative.
"To know we played a vital role in helping to return a family member home, that's success," said Sean Owens, D.V.M., the blood bank's medical director.
"Each year, the teaching hospital provides 200 to 300 transfusions for dogs to treat conditions ranging from surgical complications to kidney failure. This new donor program will allow us to develop a large, reliable source of blood products for our patients, without maintaining a colony of donor dogs here at the hospital."
Prior to the program, the university hosted 30 blood-donor dogs that would live at the hospital for a few years before being adopted out.
Aside from the fact that a dog must be laid back enough to handle the needles and testing and be in good general health, other requirements are that the dog must be between 1-8 years old, weigh over 55 lbs., have never been pregnant and live within 100 miles of the hospital to make donating on a regular basis practical.
There will be an initial health screening to see if the dog is acceptable and after that although the dog can donate monthly, they expect that most dogs will donate only 2-3 times a year.
Twelve year old Cara Benson became one of the first to sign up her beloved golden retriever, Reno, to give the 'gift of life'.
"He's just like a little brother to me. I just don't know what life would be like without him being in our house," said Cara, adding if she's so close to her golden retriever, Reno, other families must feel the same about their pet.
Now they will wait a couple of months to make sure that Reno is cleared by the health screening then he will be able to donate his precious blood that may go to save someone else's beloved canine companion.
Officer Walter Broussard from U.C.D's police force is another one of the first to bring in a donor dog. He says people come from around the world to get transfusions here and he was happy to volunteer "Grimm."
"If someone travels all around the world, I'm willing to let it sit down for a few minutes and donate to save a dog's life," says Officer Broussard.
Eventually, the program plans to establish a mobile blood bank that could be taken to dog shows and other canine events to make donating more convenient for dogs and their owners.
To learn more about the blood donor program or to schedule a health-screening appointment for a dog, call the Veterinary Medical Teaching Hospital at (530) 752-1393 ext. 421.
Source – CBS5
Email This Post
Like this post? Subscribe to my RSS feed and get loads more!