Canine Blood Donor Honored
Thursday, February 21st, 2008 at 8:42 am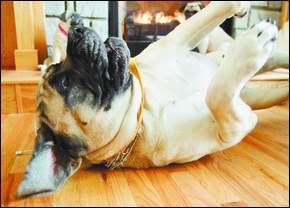 To most of us our dogs are heroes in one way or another, maybe just by being a part of our lives and loving us unconditionally. Well here's a dog that's a hero to many others and has saved countless lives. Lurch is a 200 lb Mastiff and he's a canine blood donor!
Lurch, whose since come under media spotlight, first gained notoriety after being named by the Livingston County Red Cross as one of its "Everyday Heroes." He has donated blood some 20 times to other animals, including to one dog who got into some rat poison. He'll receive the chapter's "Pet's Best Friend" award at an event in Howell, MI today.
Lurch's owner, Joni Melvin-Thiede, said Lurch donates blood for other canines about once every four weeks. His blood has helped dozens, including saving one dog who got into some rat poison.
"You really don't end up knowing which dogs he helps, but his little picture goes on each bag so the person that gets it will actually know it."
"Mastiffs are just like 200-pound pugs," Melvin-Thiede said. "They're just as friendly and just as goofy except they have a couple more zeros at the end of the weight."
Lurch shares his home with home with four pugs, seven cats and another 200 lb pooch named Lucas  and is noted for his unfailing friendliness with nurses.
Source – AP
Email This Post
Like this post? Subscribe to my RSS feed and get loads more!