Case of Men Who Killed and Ate Dog Moves On
Sunday, July 6th, 2008 at 7:56 am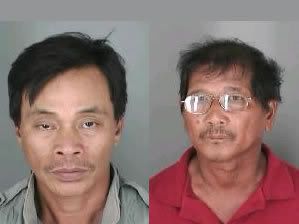 In a case that shocked and stunned Hawaii and the nation, a judge ruled that statements made by Nelson Domingo and Saturnino Palting, who were indicted in January for stealing and eating a pet dog, will not be thrown out.
On December 16, Palting and Domingo stole Frank Manuma's eight month-old puppy, a German shepherd-Labrador mix named Caddy. Manuma had taken Caddy with him to Moanalua Golf Club and had permission to leave his pet at an equipment shack near the clubhouse while he golfed. When he went to retrieve Caddy after he finished golfing, Caddy and the leash used to keep him at the shack were gone.
The two maintenance workers admitted to taking the dog, but said it ran away when they pulled over on the side of the road.

The state says, when the men were separated and questioned by their boss, their stories didn't match up.

"Mr. Domingo stated the dog had been in its car, but because it was licking its ear, he stopped to open the door and the dog ran away… I believe he said by Circuit City in Aiea," said judge Randal Lee.

But Palting said they pulled over at another location miles away.

Their attorney's claim, the men made the comments without being read their miranda rights and wanted the comments thrown out. But the judge said miranda rights were not necessary because police didn't question the men. Their boss at the golf course did, and eventually fired them after that meeting.

The trial date is set for October 27th. (KHNL)
They face one count each of second degree theft and first degree cruelty to animals and if convicted, Palting and Domingo could face five years in prison and a ten-thousand dollar fine.
This past Tuesday in court, more details about the crime came to light.
Witness Marcos Norbert said Moaunalua Golf Club co-workers Saturnino Palting and Nelson Domingo claimed they had their boss' permission to take Caddie, a shepherd-lab mix owned by a golfer.

Norbert said they took the dog and put in the trunk of a car.

"They was telling me that they [were] going to kill the dog," Norbet said.

Moaunalua Golf Club Manager Steven Burke said he was outraged later confronted his two employees.

"I asked them why would they take the dog, and at that point they told me, 'Feeding, feeding,'" Burke said. "I said, 'For feeding, for feeding who?' and he motioned between the two of them."

The two men are charged with misdemeanor theft and felony animal cruelty. Their attorneys said prosecutors haven't made it clear what is meant by cruelty. The judge read from a witness statement.

"Palting was holding the dog down while defendant Domingo stuck the dog in its chest or stabbed the dog in his chest," Burke said.

Prosecutors said the details to this case are crucial because the animal cruelty law was written to ban dog-eating, so exactly how the dog died will be important in the case. (KITV)
Now we can only hope that when the case comes to trial in October, justice will be served to the two heartless men who thought it was acceptable to serve up a couple's beloved pet dog for dinner!
Email This Post
Like this post? Subscribe to my RSS feed and get loads more!