Charges Filed in 'Trash Bagged' Poodle Case
Saturday, December 22nd, 2007 at 10:14 am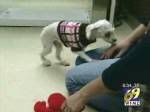 I honestly didn't think I'd see this and cannot tell you how happy it makes me that the person who so cruelly threw two sick poodles in a trash bag and tossed the bag away is coming to pay the price for his cruelty!!!
The owner of the dumped poodles, twenty year old Matt Keyser of Phillipsburg, turned himself in to Phillipsburg Police Department on Wednesday who turned that case over to the SPCA for prosecution. Keyser is now facing ten animal cruelty charges.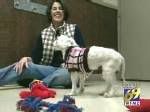 Seems he went to the vet and was told that it would cost him $1300 to care for the already sick dogs which he felt was too costly.
"He went to the vet and said, 'My dogs are sick and they're not going to make it,"' said Matt Stanton of the SPCA. "They gave him a price and he thought it was too high."
He claims a misunderstanding and said that he thought the dogs were already dead when he put them in the bag to dispose of them.
The four summonses relating to Max, the dead poodle, include separate civil and criminal counts of depriving the dog of necessary sustenance and for abandoning a domesticated animal.

The [six] summonses relating to Locky include criminal and civil components for depriving the dog of necessary sustenance, inflicting unnecessary cruelty upon a living animal and abandoning a domesticated animal. (NJ.com)
"Each one carries a $250 minimum fine and a $1,000 maximum fine," Lt. Rick Yocum of the New Jersey Society for the Prevention of Cruelty to Animals said. "And then beyond that when we go into court we often times will look to get restitution (for medical expenses incurred to care for the animal.)"
Friday, Lockey, the suviving poodle, went home with Tatum Porter, the woman who rescued her. Since the rescue, Lockey has had surgery for the corneal ulcers she had when she was found and has put on a few pounds. She was sick and malnourished and has been under the care of Warren Animal Hospital who kindly donated their services.
Porter couldn't be happier to have the poodle at her Pohatcong Township home. Locky has been walking through the house, has found her doggie dishes and was playing outside in the snow for a bit, Porter said.
"It's the best Christmas present," she said.
But now Porter, who immediately offered to adopt the abandoned dog, may have to worry about retaining custody of Locky, who she has already given heart and home to.
Not only does Keyser have to face the law, he also has to face his mother who has put in a claim on Locky saying she was the previous owner of the poodles, Bella , now Locky, and Max, who died in the trashbag.
Personally, although the final outcome is obviously in a judges hands, I think that Keyser's mother will have a hard time getting the dog back. She gave up custody when she gave the dogs to her son and didn't care enough to make sure they were taken proper care of then so why should she get the dog back now? And of course when Keyser tossed the trash bagged dogs, he gave up custody of them.
Barring any weird rulings, and sadly I have seen them, I foresee a long and happy life for Locky with Porter.
So although Keyer's mother may want the dogs back, "That, at this point, is not going to happen," said Yocum, Locky," will remain where she is as the case proceeds.
Porter said she feared she'd lose Locky when she learned Keyser's mother wanted to take her back, but she's since been reassured that won't happen.
As for the offered reward?
Hopefully Keyer didn't think he'd be seeing a penny of it because he won't!!
The Humane Society of the United States on Monday offered a $2,500 reward for information that leads to a conviction in the cruelty case and The Lehigh Valley Animal Rights Coalition had offered a $500 reward.

Lehigh Valley Animal Rights Coalition President Virginia Wolfe called the situation disgusting and said a confession takes the reward off the table.

Her organization will not "reward a criminal who turns himself in," she said. (AJ.com)
As it should be!!
I have a feeling he's going to be finding out pretty quickly that the $1300 price tag to have the poor dogs treated is going to look pretty cheap compared to the price he's going to be paying!
Here's to a happy holiday for Tatum Porter and Locky!!! 😀  And some serious penalties for Keyer!!
Email This Post
Like this post? Subscribe to my RSS feed and get loads more!