Charges in Snohomish and Skagit, WA Puppy Mill Cases
Wednesday, February 11th, 2009 at 7:36 am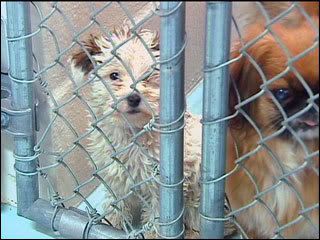 In January, around 600 dogs and puppies were seized from two puppy mills in Snohomish and Skagit Counties in Washington. Officials seized 155 dogs from a Gold Bar property owned by Jason Larsen and Serenna Larsen, both 37 and over 400 dogs were seized from a property near Mount Vernon owned by Richard and Marjorie Sundberg.
The Larsons were charged with six counts each of first-degree animal cruelty each and could face could face 17 to 22 months in prison if convicted.
The Sundbergs were each charged with four counts of second-degree animal cruelty.
In this twisted and convoluted case, or cases, the two well connected because the Larsen home is owned by a daughter of Marjorie Sundberg. There is also another daughter involved in the business and although investigators found well over the number of dogs that there was supposed to be, they did not seize them because they appeared to be in acceptable shape.
Property records show that Mary Ann Holleman, one of Marjorie Sundberg's daughters, owns the home near Gold Bar where the dogs were found but officials are convinced the property is actually owned by Holleman's sister, Renee Roske, the suspected leader of the puppy-breeding group. Roske also is the registered owner of Wags 'n' Wiggles, a Snohomish breeding company.
The Larsens are scheduled to make their first court appearance Feb. 24.
Marjorie Sundberg was schedule to make her first appearance yesterday but did not show up. An arrest warrant has been issued.
You can read the background on this HERE.
Amazingly enough, although Renee Roske seems to be deeply involved in this, she has not been charged with any crimes… yet.  I believe there is still an investigation undergoing.
There have been problems with Roske and Wags 'n' Wiggles dating back as far as 1996.  One of the dogs seized in the Gold Bar raid has a microchip listing Roske as the owner.
Her history includes at least eight separate visits by officials. One report, filed on Nov. 7, 2003, described how sheriff's deputies responding to a domestic violence complaint found more than 40 dogs at Roske's home, some living in the secret room.
Snohomish County did take civil action against Roske, Holleman and the Larsens, they've been ordered to cease keeping dogs in ways that appear to violate animal control laws.
The county has given Roske notice they are pulling her kennel license which means she'll be allowed to legally keep no more than three dogs. She's been fined $100 and issued a written warning that she is subject to criminal charges and additional fees if she fails to comply. She can appeal.
If you ask me, everyone in this sick, twisted and convoluted mess needs to be charged and every animal needs to be removed from their custody. They've done everything they can to evade the law. Hundreds of dogs and puppies neglected, abused and found in deplorable conditions, many without food or water, many sick.
These abuses need to end and the people involved need to called to task for their crimes. These dogs are living, breathing, feeling creatures being tortured to support this multimillion-dollar puppy mill organization they are running.
Why doesn't someone try putting these people in the same conditions the dogs live in and see if they like it? Wouldn't that be appropriate? If you're out there breeding and could happily live in the conditions your animals live in then maybe you have an okay operation. If you can't, doesn't that tell you something?
There are wonderful, reputable breeders out there. Their dogs are part of the family, they live in the home and well loved and cared for. They breed for the love of the breed and make sure that anyone who gets one of their puppies is well interviewed to make sure the fit is right because they care about each and every puppy. I respect breeders like this. They are very few and far between. These kinds of breeders would happily live in the conditions their dogs do because they are loved and pampered family members, not just "breeding stock."
Trash like these Snohomish and Skagit puppy millers wouldn't think of being condemned to the cruel neglect they subject their dogs to. Officials need to put an end to their "organization" and make sure it doesn't happen again. How long are people going to sit back and allow torture for greed continue??
Email This Post
Like this post? Subscribe to my RSS feed and get loads more!