Charges to be Filed in Orlando Dog Shooting – VIDEO
Tuesday, July 29th, 2008 at 10:55 am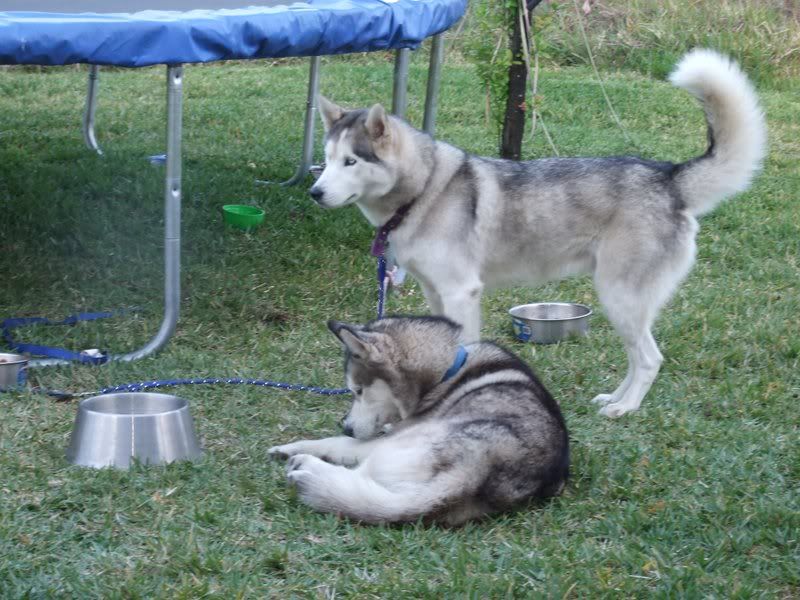 Update 2/9/09 – Justice for Raley and Hoochie? PETITION
UPDATE 8/1/08 – See Video Below – Lawyer Takes the case, hopes to up charges for Comins.
Although it's been some time in coming, Chris Comins, the man who maliciously shot Chris Butler's two Huskies, will be facing animal cruelty charges.
The charges stem from a May 19th incident when Chris Butler was out walking his Huskies, Raley and Hoochie, and the dogs got away from him. Butler has never denied that that dogs should not have been off lead but that does not give someone the right to shoot and shoot and shoot at them, especially when the owner shows up, begging the shooter to stop, begging to spare the dog's lives.
You can read the full background on the story HERE, as well as see the full video of the incident that was taped by a tourist.
Chris Butler has been in touch with me and sent me some pictures of his beautiful dogs, as you can see above. That was a happier time before they were maimed and injured.
He also left the following comments with the original story;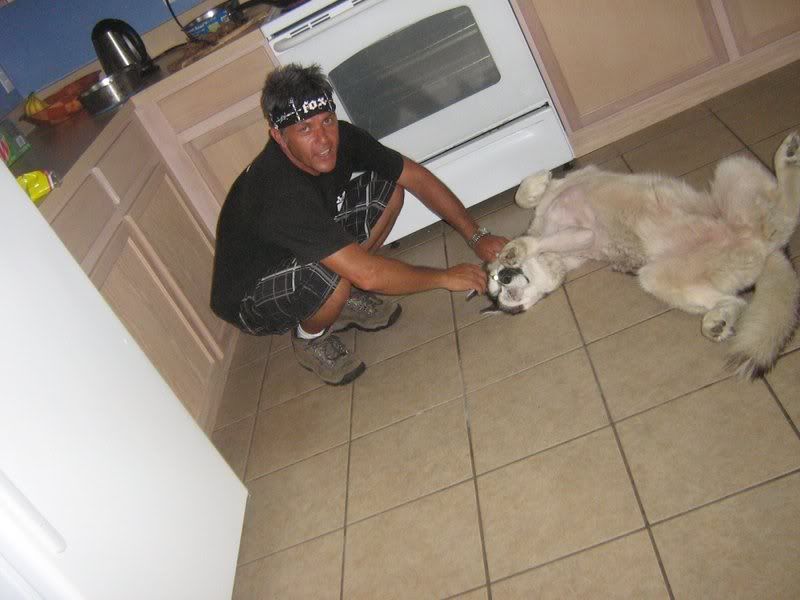 I am the owner of the dogs. You people need to do your homework on Chris Comins. He should be in prison for pointing a laser sighted gun at a kids head.By the way, you will be disappointed to hear, that Mr. Comins is being charged with animal cruelty. He did what he did because he wanted to do it and he loved every minute of it and now his murderous behavior is going to be held up for the world to see.
And;
Both my dogs are at home and are healing. Chris Comins shot Hoochie after I looked him in the face and begged him to stop.I have been contacted by Chris Comins ex wife and the father of the boy that was threatened. He has been described to me as a alcoholic,violent,abusive, racist gun obsessed monster. ALWAYS on the lookout for a fight. Road rage incidents, airport security, Orlando magics game. Lives as if the laws do not apply to him. I have been contacted by the most unlikely people and I have yet to hear one decent word about him.

My dogs would never ever harm those cows. If those were elephants my dogs would have behaved the same way and would probably have been trampled to death. They are curious, playful and harmless. I took them off their leads momentarily so they could cool off in the lake and I was daydreaming and they got away from me.

He had absolutely no right to do what he did and his day of reckoning has come. Not only for my dogs but for all the bullying and misery he has put people through, including apparently, his own sons.

To those of you who support him why did he lie in his original statement? He told police he thought they were wolves and that they had attacked him. Then when the video surfaced and the evidence belied his claim he changed his story to "the dogs were trying to get to a calf" No more wolves (with collars). One of my dogs was shot in the back of the neck through his collar.Hoochie has had his eye removed and his leg was fractured and has been operated on. $7000 worth of vet bills. Once he fired those first 2 shots and the dogs took off he should have been done. What in hell was he thinking. He fired 9 times and hit them 6.I am not a vindictive person and I know my dogs should not have been in that field but the people of Orlando should be grateful that the spotlight is on this man because I feel it would just have been a matter of time before he did something worse. And I am certainly not alone in thinking that. Hell, look at his body language in that video. He looked like he wanted to shoot me.

Oh, and by the way, did you see how much interest they showed toward the cattle. He was actually shooting toward them at one stage. Somebody said one of the cattle was injured??? You are the ONLY person that knows about that. Can you imagine the song and dance they would have made about that. When the police interviewed me 3 weeks later they had no knowledge of any cattle being injured. BECAUSE THEY WEREN'T.

Christopher Comins?? How can people watch that video and try and defend the indefensible. Some people are capable of inexplicable and astonishing acts of brutality. The man in the video is one of those people.
Chris Butler has promised to keep me updated on the situation. I, for one, am relieved that charges are finally being brought against Christopher Comins. Now I just hope that justice will be done. He is only being charged with misdemeanor animal cruelty and although I don't think that is enough, it is better than nothing at all.
Update on Orlando Dog Shooting – Interview with Chris Butler
A lawyer who believe that a single misdemeanor charge or animal cruelty against Chris Comins is far too lenient has taken Chris Butlers case and hope to have the charges increased.
Lawyer Takes Chris Butler's Case
Email This Post
Like this post? Subscribe to my RSS feed and get loads more!