Cheryl Ann Magnotta, Charged with Killing 21 Great Danes, Arrested
Friday, July 13th, 2007 at 10:07 am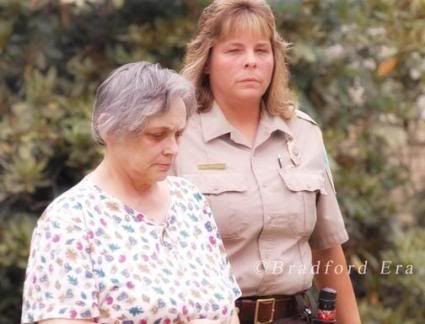 Cheryl Ann Magnotta, who was charged with 21 counts of animal cruelty after the dead and decaying bodies of 21 Great Danes were found at a house she occupied at 320 W. Corydon St. in Bradford, PA has been located in Lackawanna County and arrested.
The woman who used to own the McKean County property where 21 Great Dane carcasses were found last month has been found by police in Lackawanna County.

It's not clear if 59-year-old Cheryl Ann Magnotta has an attorney, but she was taken into custody on a warrant for 21 counts of animal cruelty yesterday evening by the Newton Township police department. It was not immediately clear when Magnotta will be brought back to the Bradford area for arraignment.

Police issued a statewide bulletin for Magnotta because they could not find her after filing the charges last month.

Two of the dead dogs were found June 12th by a real estate agent who was on the foreclosed property. The agent called authorities who got a search warrant and found the remains of more than 20 dogs.

Police say it appears the dogs were starved to death, but results of tests to determine that have not been made public. (WHP TV)
More info from the Bradford Era;
A former Bradford woman accused of starving 21 Great Danes to death is now in McKean County Prison following her arraignment Thursday afternoon before District Judge Richard Luther.

Cheryl Ann Magnotta, 59, formerly of 320 W. Corydon St., was remanded to the county prison on $150,000 straight bail. She is charged with 21 counts of cruelty to animals and 44 counts of scattering rubbish.

The corpses were found in two boarded-up buildings; in shallow graves; wrapped in tarps; and under old carpet on the property. The dogs were believed to have died three to nine months ago and were covered by lime, soil, debris and dog feces.

According to the affidavit, there were no food or water dishes in or around the kennels, and it appears the dogs died of starvation.

Also found were 32 bags of dog feces scattered on that property and adjacent property, as well as 12 plastic tarp and carpet remnants with dog remains.

Since 2001, Magnotta held a license to run Swift Dane Kennel. Police found documents relating to the ownership, breeding, kennel license and other records pertaining to raising dogs.

Bradford Township Police issued a statewide bulletin for Magnotta because she could not be located after the charges were filed last month. She was last seen at that property June 11 with a moving truck.

Magnotta was arrested in Newton Township, Lackawanna County, Wednesday night when she was remanded to the Lackawanna County Prison. She was returned to McKean County Thursday.

As of late Thursday afternoon, Magnotta did not have an attorney.

Magnotta, who sat quietly with a box of tissue on the table in front of her and a waste paper can beside her because she appeared to be sick, quietly told Luther that she did not have any ties to the community.

Constable Charles Gould, who retrieved Magnotta from Lackawanna County Thursday morning, said in the past he had tried to serve her with civil paperwork but she wouldn't answer her door.

Then Luther set her bail for $150,000 straight cash.

A preliminary hearing was set for 1 p.m. July 25 in Luther's office.
Email This Post
Like this post? Subscribe to my RSS feed and get loads more!