Chester County Puppy Mill Raided – VIDEO
Saturday, July 19th, 2008 at 10:45 am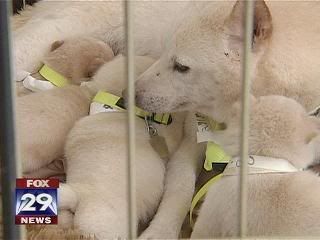 See 7/26/08 Update
Scenic Chester County, PA, was the scene of one of the latest puppy mills raids as agents from the Pennsylvania SPCA descended on John Blank's Limestone Kennels. The Amish man is facing animal cruelty charges for running the puppy mill on his Cochranville farm, authorities said.
Three and a half hours after the raid began, 21 summary counts of neglect and lack of veterinary care had been filed against Blank.
"All were crowded in cages, their nails were curled under, and two had embedded collars," PSPCA program officer Elaine Skypala said. Some had conjunctivitis, an inflammation of the eye; others had untreated abscesses, Skypala added.
"Two were missing their eyes," Bill Smith, founder of Main Line Animal Rescue in Chester Springs said. "They had big gaping holes with flies in them. One of the dogs had his eye hanging out. Two were missing ears." Teeth on one dog, a Shiba Inu, were so bad that he couldn't close his mouth, Smith said. Smith took the dogs to the PSPCA for medical evaluation.
There were over 100 dogs on the 73 acre farm situated on Route 10. From the roads, there were no signs of the horrors that were hidden away, you saw immaculately tended fields and beautiful gardens. Twenty one of the dogs had to be removed immediately amid concerns that they could have died if not rescued.
"When we walked in, it was eerie because … even though there was probably 300 dogs in this facility, you couldn't hear anybody barking because all the adults had been debarked," said Elaine Skypala, of the SPCA.
"They have nails that have been completely grown almost into the pads of their paws, and it was interesting to see them walk when we tried to put them on solid ground for the first time. Most of them weren't even able to walk,"
Yesterday's raid had its origins two weeks ago with a small ad in a Lancaster newspaper for free breeder dogs that caught the attention of Bill Smith, founder of Main Line Animal Rescue in Chester Springs.

Smith went to the farm, but Blank wasn't home. Volunteers visited the farm over the next two days and ended up with nine dogs, all in deplorable condition, Smith said.

A week later, undercover investigator Ashley Mutch went to the farm and purchased a sickly puppy that Blank had said was 7 weeks old. The puppy, which was determined to be just 3 weeks old, died within 24 hours, she said. (Philadelphia Inquirer)
"Little by little, we're coming back. This is just the beginning of one of our undercover agents going out to these mills, and we're going to find more and more that we can shut down," Skypala said as she promised more crackdowns.
An inspection in January found no violations, although he has been cited in the past for maintenance and overcrowding. Cruelty and neglect charges are expected to be filed.
Read Limestone Kennel Inspection Reports:
2006
2007
2008
Chester County Puppy Mill Raid
Email This Post
Like this post? Subscribe to my RSS feed and get loads more!