Chicago Man and Dog Reunited!
Sunday, September 23rd, 2007 at 3:58 am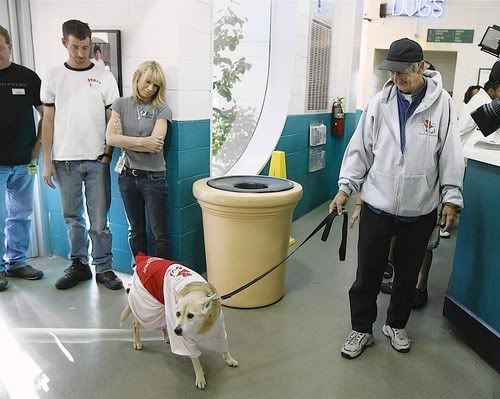 For Tom Finley, the past two weeks since his beloved Reba's disappearance, have been pure misery! But that's all over now that Finley was reunited with Reba Saturday at the Anti-Cruelty Society in Chicago.
Reba's disappearance brought many Chicago Loop workers together in their search for the stolen dog who had herself, along with her owner, Tom Finley, stolen many hearts. They gathered in groups to help search. They took in donations for a reward. They started a website to keep track of updates, ReturnReba. Someone even provide Finley with a cell phone so that he was able to take calls about his missing pooch. And The Anti-Cruelty Society of Chicago offered to mediate the return of Reba, with no questions asked, as well as provide lifetime free vet care to the 13-14 year old Alaskan mix that Finley adopted about 12 years ago.
Finley thinks the woman who took his dog did so out of a misguided belief that she thought he couldn't take care of Reba. He said he's already forgiven her if she was the one who took the dog. Officials at the Anti-cruelty Society upheld their side of the agreement when Reba was returned, they asked no questions and will not release her name.
"She was in tears," said Nadine Walmsley, an official with the Anti-Cruelty Society. "She just handed us the dog. We honored our part. No questions asked."
For the past two weeks Finley lived in a daze, missing dog fliers in his hand, asking anyone he met if they had seen his missing Reba, but at the press conference at the Anti-Cruelty Society on Saturday he said he was speechless as Reba strained at her leash and barked at photographers.
The reward fund that was started two weeks ago with $500 and had grown to an 'undisclosed amount' will be given to Finley since the woman who returned the dog wouldn't take it. This is a good thing for Finley who has been homeless in the past and scrapes by on his $601 a month social security check of which rent for his little studio apartment eats about $550 of.
Finley talked about his Reba saying, "I'd be lost without her," he said. "She's the best thing that's ever happened to me."
And after the press conference they took off to celebrate, "We're going to have a great buffet."
I have been following this story since the beginning and am just tearful myself at the happy ending! It's amazing how people will come together, you see a goodness in hearts that in the world today too often you forget even exists.
Source – Chicago Tribune
Email This Post
Like this post? Subscribe to my RSS feed and get loads more!