Christine Abrams Sentenced; Jail Time & Fine
Thursday, December 4th, 2008 at 10:49 am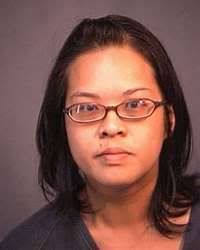 UPDATE – 12/20/08 – Christine Abrams in Jail! – You can also find links to all the background stories on this prolonged and horrific case.
This morning Christine Abrams found out the price of her cruelty, the horrific starvation death of the once beautiful German Shepherd, Ella, she cruelly abandoned and she will be serving jail time a nice hefty fine.
Although for many, a sentence nothing short of what Ella was sentenced to would seem fair, Judge Kelly McKibben did not take this crime lightly. Abrams was sentenced to 8 months in the Brevard County Jail, 12 months of supervised probation jail, a $5k fine as well as the cost of the prosecution and the investigation, 80 hours of community service and would not be allowed to possess animals during the period of her probation.
Nothing will bring Ella back but in handing down this sentence, Judge McKibben let Abrams know that she took this crime seriously.
"The facts of this case are very egregious," the judge said. "I think she made a very bad decision that day."
Andrew Stine, Abrams' attorney, was seeking a sentence that did not include jail time and said that Abrams is remorseful, and has donated her family home to Catholic Charities. He will appeal the sentence immediately.
The judge withheld Abrams reporting to jail until after a further hearing on Dec. 16. Animal cruelty activists and protestors, who have closely watched this case for months, were unhappy, though, that Abrams will not have to go to jail right away, that she'll be free while an appeal is pending.
I cannot believe that Stine is going to drag this out still…. well, yes I can but I don't think it should even be permitted!  Abrams changed her plea from not guilty allowing the judge full discretion in handing down a sentence.  The judge did and the matter should be closed now! Let Justice be served!
Email This Post
Like this post? Subscribe to my RSS feed and get loads more!