Confession and $20 in Case of Scooter the Stolen Pug – Video
Friday, January 4th, 2008 at 10:44 am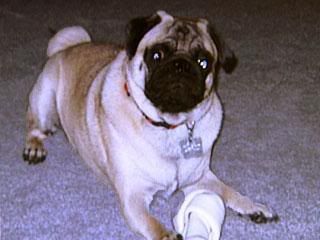 This is actually a rather sad story all the way around.
Rob and Kim Velevis' little one year old pug, Scooter, slipped out of the yard on Christmas eve. Needless to say, when the Velevises found out the Scooter was missing, they scoured the neighborhood, nearby park and shelters looking for their lost little dog t no avail. They didn't find their little Scooter and had no clue what could have happened to him.
Well, now they know! They received a letter from the woman who found their little dog, Scooter. You can read the letter below. Along with the letter was enclosed $20.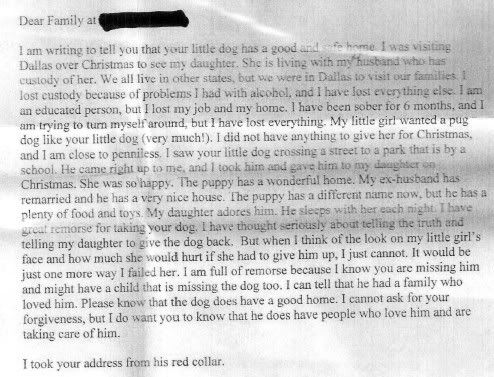 Now you can see why I say it's a sad story all the way around. A young couple loses they dog. A woman find him and because she has no Christmas gift for her young daughter, she gives her the dog even though she know that the owners will be heartbroken over the loss of their dog.
"We're expecting our first child in May," said owner Kim Velevis, "and the fact that our little girl might not be able to grow up around Scooter, it crushes us."
"We just can't believe that another human would do this to somebody else, especially on Christmas Eve," said husband Rob "She knew in the letter it was going to wreck our family."
The Velevises haven't gone to the police. They don't want to press charges. They've even said they they would buy another dog for the little girl. So now they just want as many people as possible to look for their dog and to have him back home as soon as possible.
They believe the little girl has family members living in the Dallas area and may know where Scooter is now. The Velevises live in Northeast Dallas, near Northaven and Marsh. The nearby school is Withers Elementary, and the closest park is Northhaven Park.
My heart is breaking for everyone in this story. I know the right thing would be for the Velevises to get their dog back especially since they offered to get a new puppy for the little girl. I'll keep my eyes open and look to see how this whole story unfolds. I just hope for a happy as possible ending.
Source – MyFOX
Email This Post
Like this post? Subscribe to my RSS feed and get loads more!