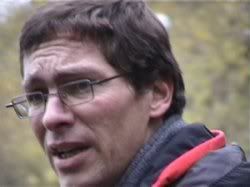 Stephen Barry King, convicted in August of 2002 of animal cruelty in the UK is now working as an dog trainer in Reno, NV. This is not a nice guy! Not only does he perpetrate his cruelty upon defenseless animals, but women and children as well.
Here's some background from Pet-Abuse.com
King's … problems go back to the summer of 1991, when Janet Kyle Zeider signed her dog up for weekly group training sessions that King offered at the recommendation of her veterinarian. Zeider states that during the 4 sessions King became increasingly agitated and ended up attacking a Burmese Mountain dog puppy.

The dog was screaming and King has both hands on the leash and was jerking the dog hard to the right and left and holding him up in the air. The dog was fighting for his life, biting at the choke chain, trying to get free, Zeider states "she will never forget it".

King became frustrated with Zeider's own Schnauzer, Izzi. The dog did not lie down fast enough upon being given Kings command so he took her leash away from Zeider, held it close to her collar, and smashed her face down on the concrete floor.

Kristin Beck states that King beat the Burmese Mountain dog puppy so badly that it "shit all over himself and was bleeding all over the floor". Beck advised everyone that had his or her dogs at the training session to leave. King became furious and when Beck and King went outside he shoved her against a wall. Beck never returned to work for King.

Zeider battle to bring King to justice took several years. She first reported him to the Better Business Bureau, called the County Commissioner and animal control with little response. She then contacted the law firm of Turner and Frasch, who were working to curb abusive trainers. In June 1996 she placed an ad in "The Oregonian" asking for those with similar experiences with King to come forward. More than 30 people responded.
************
Police records show that between 1989 and 1991, King had several run-ins with local police: complaints of menacing, a family disturbance, an altercation with a neighbor, a restraining order filed by his ex-wife and on April 9, 1991 a SWAT team surrounded King with guns and grabbed him for threatening to shoot his pregnant ex-wife Brenda Carruthers.

Linda Allen of Portland, Oregon, one of a number of cruelty investigation complainants, witnessed in October 1997 an example of King's training methods. Linda was watching TV in her home when she heard, "a choking, gagging sound. I looked out the window to see this man with a puppy (6 month old Rottweiler) on a leash, hanging it about 8 – 10 inches off the ground. At that point I became very concerned about that pup. Then the trainer set the pup back on the ground, the pup immediately laid down. The trainer jerked him up off the ground and screamed at the pup to sit down. About that time another neighbour came running towards him, yelling, 'leave that dog alone'. The trainer handed or dropped the leash and started stamping towards my neighbour, yelling and reaching into his back pocket. He pulled a wallet out, flipped it open screaming, 'I am a f***ing cop. Get out of my face or I'll f*** you up, I'll kill you.' Two other neighbours were standing in their driveway looking at the confrontation. The trainer then turned to them and yelled, 'you want some of this, come on I'll kick your asses too. I could kill you too.'" King is not a policeman and has never been a policeman.
And from Ooze Online
Multnomah County Animal Control, the Washington County District Attorney's office, several animal rights groups in Portland and the Animal Legal Defence Fund are just some of the organisations in America unhappy with King. Critics also note his problems extend to wives and girlfriends.

In 1991, wife no 2, Branda, was granted a restraining order against King when she told the court, " He has an anger problem, and has slugged me in the arm, leg and pushed me into shelves, leaving scrapes all down my back. There have been numerous times of violence. He says he is going to kill me and my daughter on an average of two or three times a month. He said he would kill me before we would ever split up. He has also taken a 2 month old son out of my arms and made gestures like he was going to break his neck."

In 1999, King was charged with kidnap, menacing and a felony assault on wife no 3 Kristi. Kristi told the police that King "has a real short temper and can change right before your eyes." When the police arrested King they observed that "several doors had been punched in on closets and rooms." This incident occurred when Kristi had already started divorce proceedings against King, although the charges against him were later dropped.

While still married to Kristi, King started an affair with Sarah, an English girl who fell for his smooth charm. Sarah met Stephen King via the Internet in 1999 and after corresponding with him for some time, agreed to meet King as friends when she was visiting Oregon. During her visit they became lovers and Sarah started living with him. The relationship was stormy and they periodically fought and split up after living together for a few months at a time in both Oregon and London. In the times between the splits King was seeing another woman and also divorcing wife no 3.

Sarah travelled to the States in November 1999 to spend time with King because he had allegedly finally got a divorce and left his girlfriend. On the 1st of January 2000 Sarah was arrested and jailed for fourteen hours in Clackamas County Jail after King told the police that Sarah had assaulted him. When the police arrived at King's house they found King had a wound to his left forearm, which was still seeping blood, his right eye was black (a self inflicted old injury), he had a swollen left cheek and an injury on his left thigh. King had apparently been stabbed and he claimed Sarah was reponsible.

The next day at 4am King finally admitted to the police that he had lied about the whole incident and that he had in fact stabbed himself in the arm and thigh. He told the police he had done this after Sarah had left the house, "because he was afraid she would cause herself injury and make him look like the 'bad guy'". Sarah was released only after King made his statement to the police and King was arrested for making a false report. The police couldn't prosecute King because Sarah left the country and was not available to testify.
***************
King calls his dog training the 'Revolutionary Real World Training System'. He claims "It is our job to first teach your dog the skills he will need in order to be truly free and happy in life. The only consequence is a tug with a leash and training collar. We do not use food or treats as a reward for your dog's good choices as we find it's not only impractical but in many cases, ineffective as well."

Instead of treats or a tug King trains dogs by 'helicoptering' or 'airplaning'. This technique involves lifting the dog off the ground for several seconds on a choke chain and lead, which could also be referred to as 'hanging'. The dog is suspended in midair and swung to and fro or in circles to keep them from biting the person holding the lead. King says his methods teach dogs to be independent thinkers by praise of desirable behaviour and correction of undesirable behaviour.

King says he uses the technique as a last resort. "If a dog is being helicoptered, it's because I have to be safe and there is no other option, I am not being a Hitler heel clicking jerk-off. I never correct a dog if I am upset, but if a dog is aggressive I'll kick its ass with a leash and a collar." (Willamette Week 1997) You may think hanging a puppy from a choke chain is cruel, but King says the lessons he teaches ultimately help dogs lead better lives.

According to statements made by unhappy dog owners in the U.S.A and Britain, it is not unknown for King to resort to kneeling on a dog's neck while still applying force with the choke chain. Neither does he seem averse to using his fists; his former assistant Kristen Beck says, "When I was living at his house, he was training a dog that wouldn't stop barking, so he punched it in the face." Kristen describes similar incidents in which he would 'pummel' the dogs with his fists.
Ooze Online is in possession of numerous cruelty reports, undercover investigations and interviews. Please take some time to check this out…. if you can stomach it! Click HERE!
On the 14 of August 2002, Stephen Barry King was found guilty and convicted on two charges, one of inflicting unnecessary suffering and the another of cruelly terrifying and cruelly treating animals.
On October 15, 2002, dog abuser Stephen Barry King was sentenced for animal cruelty at Marylebone Magistrates Court in London. The sentence was as follows:
1. 8 year disqualification from dog training/ownership
2. 100 hours community service
3. £2000 fine
And now we find he's back in the US, back to dog training, torturing if you ask me! The Reno-Gazette Journal (RGJ.com) received an email from Alison Gianotto, president of Pet-Abuse.com
[Steven/Stephen Barry King] living and working in Reno has a criminal history of animal abuse in England. He had moved to England to avoid being prosecuted in Oregon, where the Humane Society was preparing to file charges for a similar offense.
RGJ.com continues their post 'And his dog training website is here: http://www.barrysdogtraining.com/abouttrainer.htm
Funny how the "About the trainer" section doesn't mention the fact that he was banned from owning or training dogs for 8 years because of his crimes in England. "
Now in trying the web address today it doesn't seem functional, not sure if it's me or just a glitch but someone else commented earlier that when they attempted to look at it that it was password protected.
RGJ.com also had King followed by a private investigator but didn't get any usable footage unfortunately. What they did get was a comment posted from him….
Barry King Here

I must say, I pity those who spend their time trying to discredit and ruin the reputations of those who do not share their extreme positions.

There's no need to have an investigator follow me. Lurking behind buildings and bushes trying to get footage of some terrible event. I've been training dogs for over 25 years now and have always invited news channels, individuals, investigators or anyone else who would like to see my training and training methods, accompany me to any or all of my lessons.

Of course you'd have to promise not to terrorize and threaten to kidnap or harm my clients' children as you've done in the past. (you're really not well)

So, take all the photos you like, follow me around or even speak with my clients. (as long as you don't harm them)

Two things I'd like to know.

1. If indeed as you say, some government agency was preparing to prosecute me for animal abuse here in the United States, tell the readers the prosecutor's name and confirm your allegations. You know as well as I do, it's untrue.

2. Let's test the voracity of your statements. Why don't you tell us what private investigator has been following me. We can check with him/her to see whether or not you're telling the truth and find out exactly what the investigator uncovered. If indeed you had me followed, (very doubtfull) either he's not very good with a video camera or he filmed something not even remotely approaching abuse and couldn't use any video he may have gotten. Or you're lying about having me followed. After all, your MO is to terrorize, scare and intimidate decent, good people.

By the way, the reason I moved to England is to be with someone I was once very much in love with. Not because, as you claim, I was running from some mythical prosecution.

Call me. Anyone who would like to see what I do first hand is more than welcome to accompany me to lessons. No need to sneak around. But then again, there's a very good reason these animal activists are listed as terrorist organizations with the FBI. It's because they're not normal, rational people. They don't think like most people. They can't be reasoned with.

It's really very sad people like this actually exist.
As you see there's no response to the animal cruelty conviction, he just attacks and heaps abuse! This is a very scary man, someone who should not be around dogs at all!
Please, get the word out on this guy! Don't let him hurt any more dogs, the next one may not be so lucky!
Leave a comment and tell me what you think.