Dancer Bags the Title for Tiniest Dog in the World
Tuesday, May 15th, 2007 at 11:14 am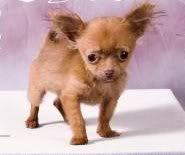 You all know Dancer, the teeny tiny little Chihuahua I've written about before; Tiny Dog Aims for Big Record, Dancer, World's Tiniest Dog, well looks like Dancer won the title for 'Tiniest Dog in the World'!
Dancer Bags The Title For The Tiniest Dog In The World

May 15, 2007 11:31 a.m. EST

Nidhi Sharma – AHN Staff Writer

New York, NY (AHN) – The Guinness Book of World Records' title for the tiniest dogs has been bagged by Chihuahuas from Leesburg, Florida, and Rockland County, New York. The position has been vacant since Danka, a 5.4-inch Chihuahua died last year.


The new title winner is the 4-inch dog named Dancer from Leesburg, Florida. His owner Jenny Gomes, 40, said her dog is 1 year old and is done growing.

The second place dog is Chiqulla, a is 3.5-inches tall dog who might be half an inch shorter than Dancer but is also only 5 months old and may not be done growing.

However, the contest owner said that Chiqulla will have to wait until December, when she has her first birthday to officially try for the title.
Source – AllHeadlineNews
Email This Post
Like this post? Subscribe to my RSS feed and get loads more!