Dancer Gets Officially Measured for World Record – Smallest Dog
Saturday, June 9th, 2007 at 9:21 am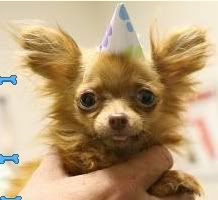 Well, it's official! Well, almost anyway 🙂 Yesterday our little friend Dancer celebrated his First Birthday and was officially measured for the Guinness World Book of Records to claim his title of World's Smallest Dog!! He measured in at a wopping 5″ tall from paw to shoulder.
I first introduced you to the adorable little Dancer in April in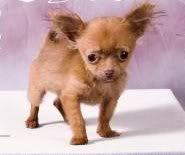 Tiny Dog Aims for Big Record. Since then, Dancer has been a busy little pup, he's appeared in People magazine and on ABC's Good Morning America. Videos of the dog are some of the most popular ever on OrlandoSentinel.com
"Oprah hasn't called us yet," his mom, Jenny Gomes, said, adding that she is planning appearances on Ellen DeGeneres' show, Martha Stewart's program and Live with Regis and Kelly. "Dancer wants to meet Oprah."
Jenny will mail the papers in to Guinness World Book to claim the offical record on Monday and expects to hear back from them in 4-8 weeks.
You can see Dancer's official 'measuring in' and brithday party on this VIDEO
Email This Post
Like this post? Subscribe to my RSS feed and get loads more!