Dancer, World's Tiniest Dog
Thursday, May 3rd, 2007 at 4:34 pm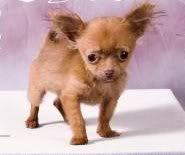 A few days ago I brought you the story on Dancer, 'Worlds Tiniest Dog' in "Tiny Dog Aims for Big Record". Today, tiny little Dancer appeared on 'Good Morning America' along with Gibson, worlds largest dog.
To see the video from 'Good Morning America' – Click Here for Video
For today's story plus additional pictures and videos see Orlando Sentinel – 5/3/07 – World's smallest dog candidate appears on 'Good Morning America'.
Dancer has agreed to an interview with Jezzie, my girl and pup correspondent, when he returns from his travels.
On Monday, my sweet Jezzie sent him a congratulatory rosette (ribbon) and inquired about an interview and this was little Dancer's reply –
"First…thanks so much for the pretty rosette!

Second…me would love to answer any question you ask me!

You one of the sweetest pups we ever meet! We do anything for you!"
So come back soon for updates on Dancer and our interview with the 'World's Smallest Dog'!!
Email This Post
Like this post? Subscribe to my RSS feed and get loads more!