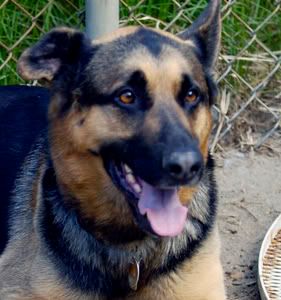 Ozzy, a 7 yr old german shepherd, was ordered to be euthanized after he alledgedly attacked a child and a woman. The child may have been bitten due to teasing and provoking the dog, this offense landing him in a shelter where he then bit a shelter worker.
Ozzy, the Death Row German shepherd, will live!

After seven years as Kelley Allard's peaceful family pet, Ozzy was condemned to die last month following an April attack on a neighbor boy in Somerdale, N.J., and a May attack on an employee at the Voorhees animal shelter where he was in court-ordered confinement.

Spared by a last-minute stay of execution, Ozzy had his day in appeals court yesterday and was sentenced to life in Delaware County Prison.

New Jersey Superior Court Judge John T. McNeill III set aside Ozzy's death sentence after defense attorney Charles Wigginton and prosecutor John Kennedy agreed that the dog could spend his remaining years patrolling the prison's 467 acres.

Ozzy will never again have contact with the public.

"I've always been an animal-lover," McNeill said, adding that he was "happy" to sentence Ozzy to spend the rest of his life "doing public service" as "absolutely the right alternative" to euthanasia.

John Reilly, acting superintendent at Delaware County Prison, said Ozzy "bonded a little bit" with K9 Sgt. David Palmer when Palmer visited the condemned dog during Ozzy's confinement at the Animal Orphanage in Voorhees.

"Dave Palmer was able to communicate with the dog," Reilly said, "and the dog responded in such a fashion that indicated that the violent behavior he heard about . . . was aberrant."

Ozzy, 7, is much older than the typical 1-to-2-year-old recruits in the prison's 28-canine unit, but "he's going to be an active sentry," Reilly said.

Ozzy will patrol the fenced-in areas surrounding the new and old prison buildings in Concord Township.

"If someone is unwise enough to break in or try to break out, then there's going to be some sort of attack from the dog," Reilly said. "He'll neutralize the intruder, either by knocking him down or biting.

"If you're stupid enough to get in between those fence lines," Reilly said, "then whatever you get, you get."

Late yesterday afternoon, Reilly received the court order transferring ownership of Ozzy to Delaware County. He expected Ozzy to arrive at his new home today.

After the appeals hearing, Allard, who owned Ozzy since he was a pup, handed a "We Love Ozzy" T-shirt to her lawyer.

She thanked the Daily News for bringing Ozzy's story to the public's attention and Delaware County auctioneer George Wilson for reading that story and suggesting the prison K9 alternative sentencing.

Allard thanked Maria Clarke, director of the Animal Orphanage, for treating Ozzy with kindness during his confinement, and K9 Sgt. Palmer, whose professional opinion that Ozzy could be retrained literally saved his life. (Philly.com)
It's sad that Ozzy struck out and bit the child but unfortunately under enough provocation most any dog will eventually strike out. Then being incarcerated, removed from his home and loving family Ozzy changed from the peaceful family dog he once was and struck out again. Dogs are smart but sadly their reasoning cannot extend to understanding why they would be ripped from their homes after defending themselves and thrown into a cage.
With so many dogs being euthanized day after day, it's good to see, for Ozzy at least, that another alternative could be found. I applaud those involved in giving this much loved dog a second chance.