Derrick Phanord Gets the Max Sentence in Brutal Maximus Killing
Tuesday, January 22nd, 2008 at 1:36 pm
We all remember the horrific story of Maximus, tied to a tree and set on fire. All the efforts couldn't save this poor sweet dog from his fate and he succumbed to death just days after the cruel assault. And of course we also remember Derick Phanord, the heartless cretin who confessed to pouring gasoline on Maximus, then named Spike, in a fit of rage, then set him on fire with a lit cigarette and left him to his cruel fate.
Indicted on felony animal cruelty charges, although he pleaded not guilty and his lawyer used every sleazy trick in the book to attempt to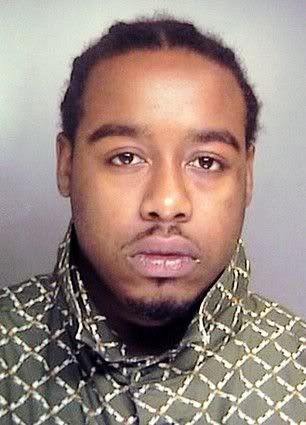 circumvent justice but it didn't work.
In November he decided to plead guilty to aggravated animal cruelty and faced a maximun of a two year sentence which I am happy to say he did receive!
"I am not a monster. I am a good guy," a weeping Derick Phanord, 22, said before his sentencing in a Riverhead courtroom. "I am an animal lover," he said.
"I am sorry for what I did," Phanord told Judge C. Randall Hinrichs before sentencing. "I will pray to God every day that He forgives me."
A Suffolk SPCA investigator, Robert Aversano, was leery of Phanord's courtroom display of remorse and his statement that he prayed for the dog after he set it on fire.

"If someone were to douse you with gasoline, light you on fire and then say a prayer afterward it wouldn't go over well in court," said Robert Aversano, the SPCA official.

"My personal opinion is that Mr. Phanord should not be able to own a dog ever again," Aversano said. (Newsday)
Now this does not even come close to paying for what he did to Maximus as well as Red, the other abused puppy that was rescued from Phanord and rehomed, but it is the most that he could be sentence to so in this case we do have to be grateful that the law did see the heinousness of this crime and gave him all they could!
Personally I think the only thing that heartless monster was remorseful about was that he's actually going to have to pay for what he did! As he whines and cries I hope he thinks about the fate that poor innocent and defenseless dog was sentenced to by him!! His sentence is light compared!
And I just have to add one more thing… his two year sentence will obviously not be '2 years,' probably less than a year but I do hope that he finds himself locked up with a real 'animal lover' for a roommate who decides to mete out a little punishment of his own!
Email This Post
Like this post? Subscribe to my RSS feed and get loads more!