Detriot Dogfighting Ring Busted
Tuesday, July 15th, 2008 at 8:43 am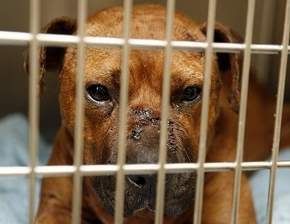 As is the norm with the cruel sick bloodsport today, there were guns, drugs and cash, $27K, recovered at the raid at a double garage which was the makeshift dogfighting ring in Detroit early Monday. Fifty-three people were arrested, including 3 women and three juveniles, which were turned over to their parents.
The dogfight was just beginning as Wayne County Sheriff Wayne Evans, two dozen deputies, including the Sheriff's Special Response Team, federal Drug Enforcement Administration agents and Michigan Humane Society officers, raided a two-car garage in the 200 block of Nevada between Woodward and John R.
Acting on a tip, they had tracked the mobile fighting ring down. Although investigators had known of the fighting and gambling operation for several days, fight locations and times continually shifted with spectators being notified by text message only hours before fight time. Dogfighting rings are notoriously hard to track down, especially during a fight, because there is so much secrecy involved.
"We found out last night and we moved," said Wayne County Sheriff Warren Evans. "It was very much like a prize fight with a ring set up and betting going on."
Officers broke up the fight and proceeded to arrest organizers and spectators, a few of which managed to escape in the melee. One of the two dogs was taken for treatment of its injuries which included gashes to the legs and face. The other managed to escape after its owner tried to carry it off and it slipped from his arms when he tried to climb a fence. The dog was shot after biting an officer. This dog is still at large, wounded and may be dangerous.
"The dog got a couple of slugs and the officer got a couple of bites," Evans said, adding that the cop is OK, but the condition and whereabouts of the dog are unknown.
"He may be lying in the weeds mortally wounded or someone may have taken him in," Evans said.
Spectators and the fight's ring leaders face felony animal fighting charges that carry up to four years in prison if they are convicted. Four people identified as organizers could face additional fines and community service if convicted.
"It's unfathomable that so many would pay to witness such an inhumane display," Evans said. "Worse, this seems to have become, for many, a legitimate and normal form of entertainment."
Of the $27k cash that was seized, $12k was to go to the winner of the fight. A portion of the money came from $65 per person admission while the rest came from bets on the dogfight.
Although it's always good news when one of this cruel operations are shut down, sadly, most of the time it's a death sentence for any dogs that are found. Few humane organization have the time or money to try to rehabilitate fighting dogs.
"At first you feel bad for the dog. He's scared. He's injured. He's confused. Once they've fought, they are debilitated. They are drained," said Deborah MacDonald, facility director and chief investigator for the Michigan Humane Society in Detroit. "As for his future? It wouldn't be safe to put that dog back into the community. It's unfortunate, but a common problem."
MacDonald said it is her organization's policy to not allow the adoption of dogs that were trained to fight. She said the final decision on this dog will rest with the Sheriff's Office or a judge.
Though it's not much of a consolation, at least this dog will be put down humanely rather than continue to have to live the cruel barbaric life it has no doubt lived up until now. I wish they all could be saved but regardless of wishes, reality sets in and reality is often not very kind.
Now we can only hope that the reality that sets in for these pieces of trash involved in this operation, organizers and spectators both, will be as harsh as possible! That I would applaud!
Email This Post
Like this post? Subscribe to my RSS feed and get loads more!