Disabled Vet Offers to Mow Lawns to Fund His Dog's Surgery
Saturday, May 12th, 2007 at 11:06 pm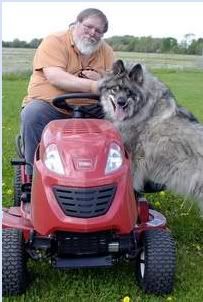 Richard Reister of Chesaning, MI, a 55 yr old disable Army vet who loves his dog and calls 3 yr old Alaskan malamute and German shepherd mix, David, his best friend.
The vet told Resiter that David's hips are deformed and he needs surgery, which is going to cost approximately $8000, or he will have to be euthanized because he is in such pain and it will only get worse.
"I'm putting away some of my disability check, but it's not enough," he said. So in April he started putting up fliers hat read: "Attention. $10 gets your lawn cut and trimmed. Disabled vet needs work to save money to pay for surgery for my dog and best friend. Contact Ram 989-413-2517" But he only got one response.
New articles have generated some interest in Mr. Resiter and David, and he has begun to receive some donations but it's going to take alot to add up to what he needs.
"I've had him since he was about 8 days old. He had an accident when he was a pup and lost an eye. He was playing with a ball, and another dog went for the ball and got his head instead. One of the canine teeth caught an eye."

Growing up with Reister, the dog learned to stay with him when he falls — which is often.

"I've got no feelings in my legs," he said. "He's always there and helps me get back up, or calls attention to other people if I need more help.

"He sleeps in bed with me at night and stays with me all day. If I'm out cutting grass, he's there with me.

"He's learned that my left side is my weakest. When I go up some stairs he goes to my left side, grabs my foot and puts it on the next step. He learned this all on his own." (Read the full story here)
Despite his own disabilities, back and shoulder problems as well as hearing problems, Reister is willing to mow to ease David's pain. He promises to do a good job.
"I have to, because I need the business," he said. "I need this for my best friend."
If you want to help -Â  Contact Richard Reister, call 989-413-2517
Email This Post
Like this post? Subscribe to my RSS feed and get loads more!