Do You Know Who Owned this Dog?
Sunday, November 25th, 2007 at 8:52 am
A Virginia rescue, Saving Furry Friends, is trying to find the former owner of this sweet little dog.
This is the information Caroline from SFF sent me:
Savanna is a 5 year old Peke mix picked up on Nov 13,2007 in Smyth County Va. More specifically she was found in the town of Marion. As you can see from her pics she has severe mange, a severe underbite that causes her to be unable to close her mouth properly, 4 teeth that are not missing as I first thought when we rescued her but rather they are broken off at the gum line and require surgical extraction She also has an old fracture ( sternum) that healed improperly, ear mites, fleas and worms. She was not going to be placed up for adoption as her medical issues deemed her "unadoptable".
Caroline says she is a very sweet dog and there's no doubt she was previous owned because she is house trained and knows some basic commands. She was also quite emaciated and malnourished.
Someone dumped this poor girl and the rescue wants to know who. She has already spoken with animal control officers and they would most likely press neglect charges against the owners.
People need to stop thinking that dogs and animals are disposable. This little girl was lucky, The shelter did not even plan to try to have her adopted due to her medical issues but looking in that beautiful face and those needy eyes, Caroline could not let her die.
Below are some other pictures that show the condition Savannah was in and this was after she had been bathed and had some mange treatment. She was actually bleeding when rescued.
Please, if you know who owned her, contact Saving Furry Friends. Feel free to post this and email this. Let's get the word out and get some kind of justice for this cruelly abandoned dog.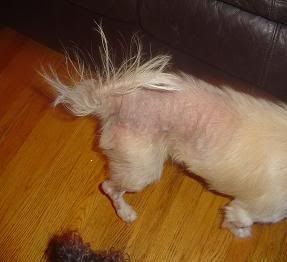 Email This Post
Like this post? Subscribe to my RSS feed and get loads more!