Do You Remember Stitch, the Puppy?
Friday, August 8th, 2008 at 9:09 am
In June I did a story about a tiny puppy that was rescued literally from the brink of death. Stitch as he was name was one of a litter of 14 English Mastiff born to a 9 month old mother dog. For some reason, she killed four of her puppies and Stitch barely survived.
He was severely bitten in the head and the attack ripped his ear, requiring stitches, which earned him his name, Stitch. But more complicated injuries came with it… impaired vision and brain damage.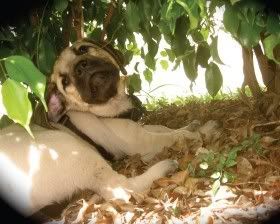 Well, I got an update on Stitch and how the little guy's been doing. He's been through some rough times and there were questions if he could be rehabilitated at times but people didn't give up on him.
Here's some of his story from Lorraine Smith of Heel to Heal who kindly contacted me to help get his story out;
After arriving at Tri-County H.S., Stitch was interviewed by our local NBC Channel 5 station and even made it onto CNN! Donna Carrigan, Assistant Director, of Tri-County kindly offered to care for Stitch while he was recovering. Donna, and her husband Glen, tried very hard to work with Stitch for a number of weeks, but unfortunately he seemed to be becoming more of a handful every day, and it was becoming more likely that Stitch had received a permanent brain injury during his attack. He was circling constantly, not eating properly, had an insatiable thirst, didn't enjoy being touched and was becoming more aggressive every day. He was also said to have been always a little "grumpy", however that was an understatement, then add to that his other health issues… well, let's just say Donna & Glen had a time bomb on their hands.

Stitch had extensive veterinary care, including a visit to the doggie neurologist, but his outlook was bleak. Donna was at her wits end and really wanted to be able to help Stitch. After hearing his heart touching story, I called a holistic veterinarian friend of mine, Dr. Marcia Martin, and after talking with Donna, we decided we would give Stitch once last chance. Dr. Martin specializes in veterinary homeopathy and put her skills and knowledge to use to find a homeopathic remedy that would help Stitch adjust to the emotional changes he had been going through, and to help with his other physical symptoms. I put my craniosacral therapy and behavior skills to work, and although we felt we had made slight headway, he was still not doing so good and time was not on our side. So it was time to move on to Plan B…. or more like Plan Z!

What's Stitch Doing Now?
Well, where to start? Stitch came to stay with me for a while for some extensive rehabilitation and therapy. He arrived here on Wednesday July 9th, and what a three weeks it has been….

Stitch had very little awareness of the outside world and he was terrified of every little sound and touch when he arrived. He would scream and howl and snap into the air, and was trying to aggressively bite anything that came within snapping distance. I started to think there was no hope for Stitch, but on day three there was a little spark of hope. We have come a long way since then. Stitch is trying very hard to adapt to his blindness, and his noise sensitivity is almost gone, except for some high pitched strange noises he hears. Through communicating with Stitch he has been able to tell me some insights into his behaviors. He has been suffering headaches, sometimes migraines due to the pressure in his skull, and has some digestive problems that cause him gas and….. give him tummy ache, these problems were contributing to his growling and biting.

He is now taking some medication for his headaches and we are still working on his tummy problems. Stitch doesn't walk in too many circles these days, mainly when he can't find his bearings or when in front of the fridge asking for food. He is learning to play like a normal puppy, likes to play with his toys and my dogs on occasion. He has learned his way around my house and somedays is even brave enough to move away from the security of the walls. Just this morning I caught him jumping around in the living room with his toy! He is learning to go potty on the pee-pee pads (and outside) and is also learning to walk on a harness and leash, which can be a challenge for any puppy. Stitch is also able to give kisses now, and likes to sit and snuggle and is becoming a very well-mannered little boy.

Stitch still requires regular medical check-ups, tests, and possibly an MRI, and although there is still no guaranteed outcome of a full recovery for Stitch we are confident that with continued rehabilitation, craniosacral therapy, homeopathy, and a few other tricks I have up my sleeve, (and of course veterinary care) Stitch will be able to find his forever home and live out a long and happy dog life.
So the little guy is coming along slowly but surely, what wonderful news!! And what Lorraine would really like to to get his story out there so that Stitch can find a forever home when he's ready. It's going to take someone very special because he's always going to need special care and he's going to be a big boy!!
If you'd like to help out, his medical expenses are ongoing so donations are welcomed.
County Humane Society (be sure to mention Stitch's name on the check) or you can call them with a credit card number.
Checks can also be dropped off at, or mailed to Heel 2 Heal, Inc.
Tri-County Humane Society,
21287 Boca Rio Road, Boca Raton, Fl 33433.
Telephone 561-482-8110.
Heel 2 Heal, Inc.
821 Maddock Street, WPB, FL 33405
Telephone 561-586-5159
You can also make a donation via PayPal at www.twogirlsandadog.org
Lorraine said that he will probably need another month or so of rehab, and then he will be ready to go to his forever home. He will need a very special and dedicated person to care for him who is willing to continue with training and follow up with his occupational therapy. She also said that she will soon have some video for me to show so that everyone can see the incredible progress.
If you go back to the original story and look at the video there, you can see, aside from how adorable he is, the trouble is was having is I am really looking forward to seeing how the little guy is doing now and I hope you are too.
And thank you so much Lorraine for the follow-up on this sweet baby!! It's always nice to be able to share a story that makes you smile!!
Email This Post
Like this post? Subscribe to my RSS feed and get loads more!