Dog Chained to a Tree, Abandoned for Weeks
Tuesday, May 22nd, 2007 at 4:31 pm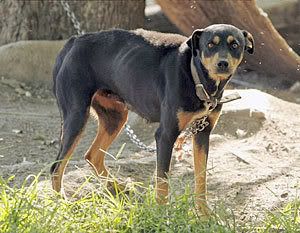 So sad! 😥 This poor dog was just abandoned, chained to a tree, left in the elements without food or water for weeks neighbors say after her owners moved away and left her!
No matter how often I hear these stories I still cannot understand them! I cannot understand how people can be so cruel and heartless. This dog is innocent and defenseless and has no way of taking care of herself! If not for the goodwill of neightbors she would most likely be dead already!
That's where the neighbors on Decker Lane stepped in, keeping the dog – a mixed breed with some Rottweiler blood – alive and nourished.

The dog, which weighs about 30 to 35 pounds, is female, black with tan legs and a tan muzzle. She is chained to a large, shady tree at the end of a dusty row of mobile homes in the hilly, northeastern part of Pasco that is still blanketed by orange groves.

Resident Dinky Lang said she believed the people who had the dog were farmworkers who moved on about a month ago.

Lang, who helps maintain the mobile home park, St. Joe Estates, went down to check on the mobile home after the tenants were gone.

"I didn't know until then they had left the dog, " she said.

"I can't see any dog suffering, " said Lang, who owns two canines herself.

Since then, Lang said, she has been taking coffee cans full of dry dog food to the pooch. She also said that just about everyone in the park had been taking food and water to the dog.

The Sheriff's Office got involved after one of the residents saw a deputy in the neighborhood about 3:40 a.m. Sunday, and told him about the abandoned animal. The deputy's report describes the dog as aggressive but not "in distress." (St. Petersburg Times)
Animal control officers say they wish they had been called earlier but according to one of the neighbors they had been called weeks ago!
If no owner comes forward, officers will collect the dog and house it for a 10-day shelter stay. After that, it could be adopted out or, if it's sick or unfit to be a pet, euthanized.
Anyone interested in helping the dog may contact Pasco County Animal Services at:
(813) 929-1212 in central Pasco
(352) 521-5194 in east Pasco, or
(727) 834-3216 in west Pasco
Email This Post
Like this post? Subscribe to my RSS feed and get loads more!