Dog Chained to Railroad Tracks
Friday, July 27th, 2007 at 7:27 am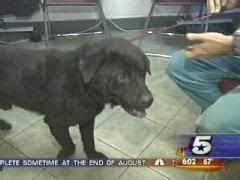 What kind of a sick and twisted individual would chain a dog to railroad tracks? Thank God someone was alert enough to notice the poor dog before it was too late and the dogs was hit or run over by the train!
DALLAS — Workers had to stop two trains and use a sledgehammer to free a dog found chained to railroad tracks on Tuesday in west Dallas.

A train traveling westbound spotted the black lab tied to the tracks and called dispatch.

The collar was embedded in the dog's neck.

"We held up trains until we could get there, found that large dog was chained up to the tracks, had to get a sledgehammer and free it," Union Pacific's Robert Koci said.

Once freed, the dog followed Koci to a car.

Operation Kindness in Carrollton took the dog.

Koci said he would foster the dog until he is better and can be adopted. (NBC5)
Now the animal welfare group Operation Kindness is offering a 25-hundred dollar reward for the arrest and conviction of the person who chained the dog to the railway.

Operation Kindness officials say the dog — dubbed "Spike" — is expected to be O-K and eventually available for adoption. (Chron.com)
Email This Post
Like this post? Subscribe to my RSS feed and get loads more!