Dog Cruelly Killed with Arrow
Tuesday, July 15th, 2008 at 7:55 am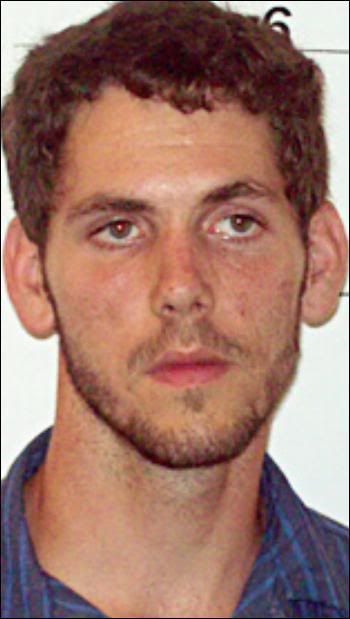 Update 10/12/08 – One of Brutal Dog Killing Pair Gets Plea Deal
For two young Mankato/Litchfield men, Alex Curtis Krause and Braydon Charles Jerve, both 21, their 4th of July festivities included staking out Krause's girlfriend's family's little Pomeranian, shooting it with an arrow, dropping a log on it's head, then dumping its body in the garbage.
Ziegler's parents, Tony and Heather Ziegler, became suspicious that Krause had done something to the dog after it disappeared. The Zieglers learned Krause had been staying at their house with their daughter while they were out of town. The dog, a Pomeranian, was gone when they returned.

Krause disliked the dog and suggested in the past that they get rid of it, the complaint said. He was asked about the dog when the Zieglers returned home and allegedly said the dog must have run away.

Mankato police received a tip last week that the dog had been killed in Lake Crystal and its body had been thrown into a garbage container at an apartment complex in the 500 block of Front Street. The Lake Crystal Police Department was contacted because the dog had been killed in that city.

One witness who was interviewed by police reported Jerve said Krause had shot the dog with an arrow. Jerve also told the witness he put the dog "out of its misery" by dropping a log on its head, the criminal complaint said.

When the Zieglers called Krause and asked him about the dog, he admitted to killing it on July 4 with a bow and arrow he had taken from their house, they reported. The arrow that had been used was put back in the house and still had the dog's blood on it, said Lake Crystal Police Chief Tony Cornish.

"We were told the perpetrator apologized for not washing the arrow," he said.

It's not uncommon for the Police Department to get reports of neglected animals, but this case was different, Cornish said.

"This is strange because of the brutal way the dog was killed," he said. "In my opinion it was a thrill kill."

Krause and Jerve were released on their own recognizance after appearing before District Court Judge Kurt Johnson Monday morning. Jerve, who moved to Mankato recently from Litchfield, has also been charged for possession of drug paraphernalia and possession of a small amount of marijuana in a motor vehicle. Both men were jailed Friday after warrants were issued for their arrest. (Mankato Free Press)
Got a couple of real POSs here. Nothing better to do with their time then torture and kill an innocent and defenseless little dog for sport and fun. Bet their momma's are real proud of them!
Email This Post
Like this post? Subscribe to my RSS feed and get loads more!