Dog Dead, Authorities Refuse to Do Anything
Thursday, November 8th, 2007 at 7:35 am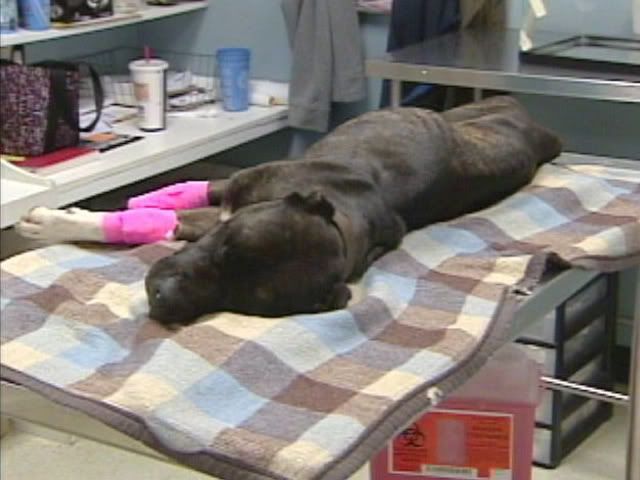 A crime has been committed, a dog is dead and authorities refuse to do anything to the person who starved the dog.
GB, a 4 year old pit bull should have weighed 60-65 lbs but when she was brought to Central Carolina Veterinary Hospital in Burlington by her owner, GB weighed only 26 lbs. she was also blind, having seizures due to her extreme malnourishment and infested with parasites. Doctors had no choice but to euthanize the dog.
While GB's owner was out of town for an extended period of time, she left GB with a friend to care for her and after two months without food, GB wasted away to nothing.
"It's a horrible case of animal abuse," says Dr. Melissa Wheeler. "It took a long time for this dog to starve to death.
"The terrible thing about it is that when she was here waiting, she ate four cans of dog food," Wheeler said. "If food would have been accessible, she would have lived."
The person who kept the dog lived in Caswell County, according to what the owner told Wheeler. She also told her that there were other dogs at that location. Wheeler called Caswell County Animal Control to request an investigation to determine whether charges for cruelty applied.

She was surprised to hear their response: "They said they couldn't because the dog had been removed from the house," Wheeler said.

Caswell County Manager Kevin Howard said that an officer "actually needs to witness a dog in the environment in which the abuse happened" for there to be charges.

Wheeler said she understands Caswell County has a smaller animal control unit than the one in Alamance County. Still, she feels there is more that can be done to punish those responsible for neglecting G.B. and to prevent something like this from happening again.

"I think it needs to be investigated," Wheeler said, adding that she has pictures and documentation to back up her case.

Even if an officer didn't witness the abuse, she said, they can probably find evidence that a dog lived there. "I feel they are dragging their feet," she said.

Howard said that an animal control officer went to the location where the dog was allegedly being held and found evidence that a dog had been living there. However, because he didn't witness what happened, Howard said, he cannot take up a warrant.

The owner of the dog, as the victim in this case, can also present charges, he said.

When the owner took the dog to the vet, "she removed the evidence from the property," said Andy Dodson, Caswell Animal Control supervisor. He said nothing has been decided yet, adding that he will be talking with the district attorney's office to determine what the next step should be.

Tina Meeks, assistant supervisor with the Burlington Animal Services, said that there are cases in which a witness is necessary to establish that an animal has been abused or neglected.

This situation is not one of those cases.

Meeks said that when you have an animal that obviously doesn't have any fat in its body and is in terrible shape, as was the case with G.B., you don't need a witness. To document the animal's condition, you take it to the vet, she said.

If the animal dies or has to be euthanized, it can be sent to the state lab for a necropsy, she said. This would give officers the cause of dead, which would allow them to present charges either against the owner or the pet keeper.

She said her office has relied on necropsy results in the past when dealing with neglected and abused animals. (The Times News)
This story just amazes me! How can no one do anything? This is an obvious case of abuse and neglect and the authorities just want to sweep it under the carpet.
Isn't it a normal reaction for an owner to take a sick animal to the vet and hope that something can be done to help the animal.  And authorities are saying they can't do anything because the dog was removed from the premises where the abuse took place. What an atrocity! Bureaucratic foot dragging and laziness!
I hope the owner follows through and presses charges against the person who did this and applaud the vet for attempting to take the initiative and try to get some just for this poor dog and owner.
Email This Post
Like this post? Subscribe to my RSS feed and get loads more!