Dog Dies after Alabama Teen Sets it on Fire
Saturday, September 8th, 2007 at 10:34 am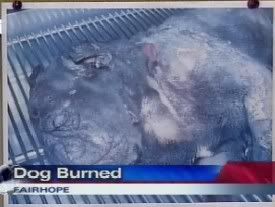 It seems lately there has been an incredible rash of children and teen abusers setting dogs on fire!! What is wrong with these kids?? Here's yet another one from Fairhope, Alabama. A 17 yr old admitted to dousing his neighbor's little 2 yr old Pug with lighter fluid and setting it on fire.
The boy was arrested and charged with felony animal abuse, his name withheld due to his juvenile status but it seems this is not his first brush with the law, just his first felony charge!
"Cruelty to a dog can be a misdemeanor or a felony, according to the statute," Stg. David Martinez of the Fairhope Police Department, who had examined photos of the burned body of the dog and said they were too gruesome to even show, said. "He's charged with the felony. I felt like it was torture."
The burning occurred Monday in the area of Young Street and Fairland Avenue, Martinez said. The investigation quickly led to the 17-year-old, who confessed to the crime, was booked into the City Jail and later released to his father, according to Martinez.
Ricky Smith, the owner of the dog, says after two days of suffering, the animal died at a local veterinarian clinic where he took the dog to try and save it the following morning. "It hurt me to my heart. I couldn't believe they did something like that."
The young pug was treated by Fairhope veterinarian James Corte, who said the "real sweet dog" suffered second- and third-degree burns covering approximately 40 percent of its body, on its back, especially in the shoulder region, and lighter burns in the groin area. The little pug stood only about 8 inches tall, Corte said.
Corte said the dog arrived at his office Tuesday and appeared to improve at first, only to die early Wednesday.
"Thank God, you just don't see a lot of abuse like this," Corte said Friday. "This is probably the worst case of blatant animal abuse — malicious like this — that I've ever seen, although I've only been in practice nine years."
Intentionally torturing a dog or cat is a Class C felony and punishable by a $5,000 fine and 10-year prison sentence. If convicted, the person may also be liable for the animal's medical care, according to the Stray Pet Advocacy's online entry regarding Alabama's cruelty laws.
Again and again studies have linked animal abuse to killing and violent crimes. What kind of children are parents and our society raising that they can so wantonly and cruelly torture and take life?
AL.com – Press Register, MSNBC,
Email This Post
Like this post? Subscribe to my RSS feed and get loads more!