Dog Dies After Animal Control Leaves it in Truck
Tuesday, September 16th, 2008 at 10:10 am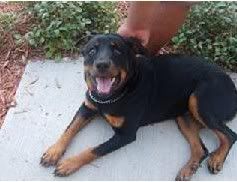 SEE UPDATE – 10/8/08 – Clay County Cleared, Reenact Dog Death
Diamond, a 2 year old Rottweiler, slept in Robert Brown's room, she was the first to greet in at the door when he got home, she played with all the children… but never again. Diamond is dead after being left in a Clay County Animal Control truck while the animal control officer went to a meeting.
Brown says he does understand why Diamond got picked up by animal control but that doesn't help him to understand why she's dead. The dog escaped from his backyard and even though his brother was home, animal control would not release her into his custody because he was under 18.
The problem comes when Brown's mother called about picking up the dog and no one had any clue about her.
"They didn't know where she was at. They didn't know if they had a Rottweiler or anything," Brown said.

He said Connie Goon, the director of Clay County's Animal Control, told him Diamond had been left in a truck while the officer attended a meeting. When the officer went to process the dog, she was dead.

"They told her that they found the dog dead. She said that she had been dead for at least 45 minutes," Brown said.

Brown said animal control does not have an answer as to how his dog died, but he said he wants someone to be held accountable.

"If I were to leave my dog in the back seat of my car with the windows cracked, which would represent the vents inside the truck, and she died, I would be in trouble," Brown said. "Home is not the same because she would be the first one to greet you at the door. She slept in same room as me. It's just not the same."

Clay County is investigating whether there was wrongdoing in the incident. (News4JAX)
I can't understand how they can investigate whether there was wrongdoing, how could there not have been when a dog is dead at the hand of Clay County Animal Control and one of their officers? Especially after the debacle in Texas when 8 dogs died after being left in an animal control truck without air conditioning!!
In general, I have great respect for Animal Shelters and Animal Control Officers, they often do a thankless job but I have been seeing too many instances of animal shelters whose conditions make the worst puppy mill look inviting and animal control officers with no care at all for their charges. This cannot be allowed to continue! There need to be some strict regulations and oversights.
Animals may be considered legally as property, but that doesn't make them any the less living, breathing, thinking, feeling creatures. This must be taken into consideration.
So how does your local animal shelter measure up? How would your pet fare if they accidentally got loose and wound up being picked up? This is something that every pet owner has to think about. You may think that your dog will never get out but accidents do happen. Don't let you innocent pet be the next victim of an uncaring and negligent system!
Email This Post
Like this post? Subscribe to my RSS feed and get loads more!