Dog Dies as Officer Writes Ticket – "Chill Out, It's Just a Dog" – VIDEO
Saturday, August 16th, 2008 at 12:30 pm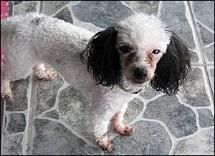 I was angered and disgusted when I first read about this the other day and am no less no now.
Krystal Hernandez and boyfriend, Michael Gonzalez, were rushing Krystal's little poodle, Missy, to an emergency vet at about midnight on August 5th after the dog choked and collapsed. A police traffic stop by San Marcos Police Officer Paul Stephens effectively ended any chance to save the dog's life, Missy died at the scene.
This is just a sad and tragic story! Krystal and Michael got home from visiting a friend shortly before midnight and fed Missy. She choked and collapsed. They tried to unblock her airway without success, then like most any loving, caring pet owners, they rushed to get emergency help, at a 24-hour veterinary clinic in New Braunfels.
Yes, they were panicked… yes, they were driving at excessive rates of speed, up to 95 mph. Under those conditions, I cannot fault the officers for stopping them. It's what happened after he stopped them that he can be faulted for. His lack of sensitivity and callousness, inept handling of the situation, effectively killed killed the dog.
Instead of getting a handle on the situation quickly and trying to help, maybe even escorting the young couple to make sure they wouldn't be an accident, Police Officer Paul Stephens wasted time, told them to "chill out, it's just a dog, you can always buy another" or words to that effect.
"Instead of helping us, he asked Michael what he was on," Hernandez said.
She said they begged to be allowed to take the dog to the clinic, also asking that they be allowed to turn themselves in to be ticketed or arrested or for Stephens to detain Gonzalez there while she drove the dog to New Braunfels.
After almost fifteen minutes, every minute precious to a choking dog, after discussing the situation with other officers and finally writing a ticket, Krystal and Michael were finally allowed to leave. But by then it was too late for Missy, the dog had died.
All their begging and pleading fell on deaf, insensitive ears!
Michael Gonzales has filed a formal complaint with the San Marcos police over the Aug. 5 incident.
Police Chief Howard Williams said an internal investigation was begun after Gonzalez complained.
"This was not our finest hour," Williams said. "It was not handled right by our officer, but whether there was a violation of our policy that is subject to punishment, I don't know."
Stephens received a verbal reprimand and counseling on better ways to handle the situation, Police Chief Howard Williams said.
While I believe that chief Williams is trying his best to handle this extremely volatile situation, a little talking to and counseling come a bit short of what is needed for the Officer. There is no way to bring back Krystal's dog Missy, but this situation is just one more in a long line of offenses by officer across the country in the way they handle animal situations.
"It's just a dog" truly sums up the way too many people, including officers of the law, think about dogs. They completely miss that to many dogs owners, myself included, our pets are more, much more, then 'just a dog'! They are our friend, our family members, beloved companions, our furkids.
There's no excuse, rookie or not, for this officer's actions. A person should not need to learn compassion. If that's not already a part of someone's makeup, then there's a problem!
Rest in peace Missy! Krystal and Michael, you have my deepest sympathy and compassion for your loss. Missy can never be replaced but hopefully there will be some kind of justice for her death. That officer may as well have held a gun to her little head and pulled the trigger!
Dog Dies as Police Tickets Owner
Email This Post
Like this post? Subscribe to my RSS feed and get loads more!