Dog Drives Van Into Coffee Shop – VIDEO
Sunday, November 23rd, 2008 at 7:09 am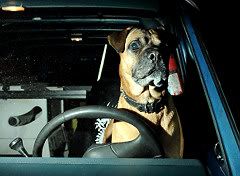 For your amusing news we have this; a pooch left alone in his Long Island owner's van decided to get his own coffee instead of waiting so he just took a cruise all by himself, much to the amusement of pretty much everyone.
The short but ruff ride by Bentley, a 50-pound mutt owned by musician Bryan Maher, ended without anyone getting hurt – just a lot of head scratching by witnesses at Cool Beanz in St. James, L.I.

"I ran inside the coffee house to sign up for open-mike night, and I left my car running because it's cold outside and I didn't want my dog to freeze," said Maher, 60. "The next thing I knew, I looked up to see my van coming at me in the window, with Bentley in the driver's seat grinning at me."

The boxer and Shar-Pei mix, rescued by Maher from the pound about a month ago, somehow managed to put the car into drive as Maher, 60, was talking to Cool Beanz owner Patricia McCarthy.

"Bentley was driving a '92 Ford van!" marveled McCarthy, 57. "I was astonished, very much so."(Daily News)
Maher won't be leaving Bentley alone in the van with it running anymore, you can bet one that.
And since no one was hurt, it was a happy ending all around. And McCarthy was such a good sport about it, still booking Maher for singing on Saturday night.
Email This Post
Like this post? Subscribe to my RSS feed and get loads more!