Dog Fed Glass Recovering – REWARD – Video
Wednesday, July 16th, 2008 at 8:36 am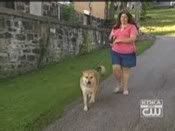 On June 22, Mary Ann Stull of Connellsville, Pa, was going to be out for a few hours so she settled her 4 year old mix dog, Scooter in his outside kennel.
While she was gone, someone fed Scooter ground beef laced with ground glass shards.
Mary didn't even realize that Scooter was hurt until the next morning when she noticed his mouth was bloody, then she found more blood.
"When I woke up, there was blood all over my bedroom floor, all over his mattress and his blankets," Stull said.
Mary took Scooter to Grace Veterinary Clinic in Mt. Pleasant, where veterinarian John O'Laughlin discovered the shards of ground glass. Scooter's lungs, stomach and chest cavity were filled with blood, she said.
Scooter required stitches for lacerations on his tongue. Stull said one of the dog's lungs collapsed, but it has since reinflated. She said Scooter is recovering, but remains at risk for complications, such as emphysema.
"I'm just really, really burning mad," Stull said. "The first few days I was scared, but now I'm just mad. This isn't right to do this to an innocent animal. Whoever did this, they need to pay for what they did. This dog really, really suffered."
"This was intentional. Usually when a dog eats a piece of glass, you'll see a laceration on the mouth, or a laceration elsewhere. No, they knew exactly what they were doing, when they were doing this," Dr. O'Laughlin said. "This is one case that you're going to remember, and you don't want to remember this, but he's a good dog, nice owners. It's a wrong situation."
Whoever did this meant for the dog to suffer and suffer badly. It was a cruel and cowardly attack on a defenseless animal by a very sick person.
Humane officials in Fayette County want to know who fed shredded glass to Scooter and in fact, the Humane Society is offering a $2,500 reward for information leading to an arrest and conviction in the case.
Anyone with information on the identity of those responsible for hurting Scooter is asked to call the Fayette SPCA at 724-438-3121.
Email This Post
Like this post? Subscribe to my RSS feed and get loads more!