Dog Found by Dumpster Loses Fight to Live
Saturday, September 1st, 2007 at 10:24 am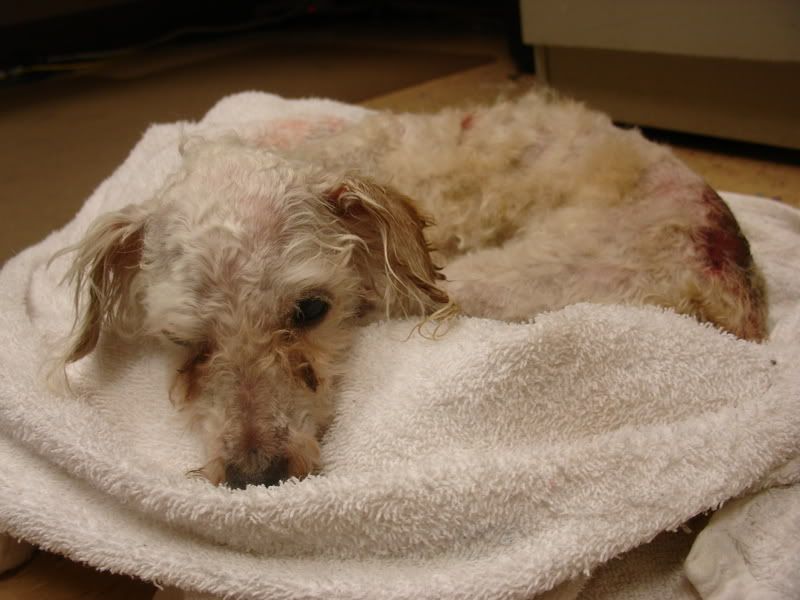 This little poodle mix, named Stevie, was found Thursday by a dumpster at the Wisconsin Humane Society. You can see that she was not in good shape, numerous injuries, malnourished and she had open wounds on her neck which were maggot infested. An animal technician removed as many as possible but they continued to emerge from under her skin.
Sadly, despite efforts of the workers at the humane society, who choked back sobs, and despite Stevie's will to live, the little dog didn't make it.

It's another case of senseless, vicious cruelty to animals–the kind that too often eventually leads to senseless, vicious cruelty to humans (for those who try and excuse this kind of behavior as being committed against "just a dog").
"Unfortunately this is not an isolated incident. In just the last three weeks, we've seen three cases of dogs who were left outside in dumpsters," spokeswoman Angela Speed said.
In a statement made earlier Thursday, the society said "Amazing transformations occur with every animal at the Wisconsin Humane Society and hopefully, Stevie will be no exception. She deserves to be healthy, loved and treated with the utmost respect and kindness."
So very, very sad that such a sweet dog, so innocent and defenseless, would be thrown away like nothing more than trash. I will never understand how people can place so little value on life, how they can look in the eyes of a dog and feel nothing.
And little Stevie's case is just one of so very many. She is beyond pain and suffering but there are many who are not. Please, don't turn your back on these precious babies in need. They give so much and ask for so little in return. Only we can work to end the circle of cruelty and neglect and abuse!
Email This Post
Like this post? Subscribe to my RSS feed and get loads more!