Dog Found Muzzled with Duct Tape, Owner Arrested
Wednesday, January 21st, 2009 at 6:51 am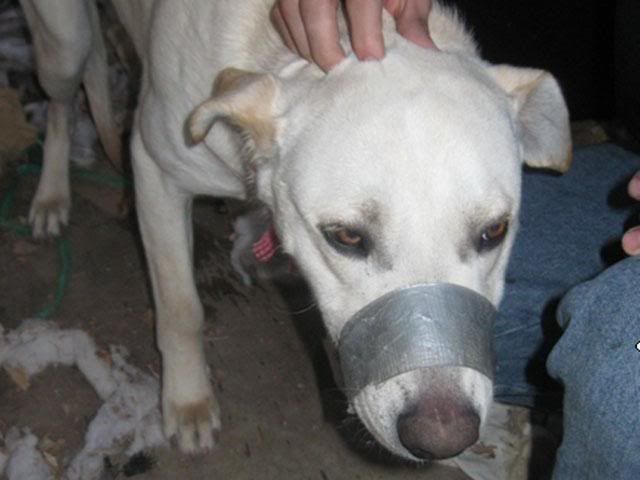 On Monday, Northglenn, CO, police received a call about a yellow dog with duct tape wrapped around its muzzle.  Answering the call they found this sweet dog, Jay, in the condition you see.
The dog's owner, 38-year-old, Michael Reust, told police that he got tired of the dog's barking and taped up his muzzle to shut him up.
Officers removed the tape and Reust was arrested on felony charges of animal cruelty and taken to the Adams County Detention Facility.
Jay is in good condition and has been released from the Veterinary Hospital and transferred to the Adams County Animal Shelter. Reust has turned over ownership of the dog to the shelter.
Stories like this just disgust me!  What kind of a sick SOB wraps tape around a dog's muzzle? Is this guy so totally brainless that he has no clue of the danger, the damage and the pain?  A dog is a dog, a dog barks.  If you can't train a dog, if you can't care for a dog properly, you have no business have one.  A dog is a gift, any pet is a gift.
People who do something like this need to have duct tape wrapped abound their head and see how they like it, especially when it gets ripped off!
At least he was actually charged with a felony!
Thanks God someone actually noticed and stepped up and called the authories and now Jay is our of Reust's hands. Too many people just sit back and ignore cruelties and abuses because they don't want to get involved.
When are people going to understand that we really are our brother's keeper, even if that brother is "just a dog."  Next time it could be a child or someone else who is not capable of caring for themself.  People need to stop closing their eyes to cruelty and pain, it doesn't make it go away.
Email This Post
Like this post? Subscribe to my RSS feed and get loads more!