Dog Groomer Convicted of Animal Abuse… Again! VIDEO
Wednesday, March 5th, 2008 at 9:00 am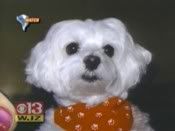 Celeste A. Rainone, 53, owner of Grooming By Celeste, who in November received a 90 day jail sentence and three year probation in connection with the death of a dog she groomed, has been found guilty again of animal abuse. This time in connection with a 4-year-old Maltese named Chesney in June 2006. Darlene Andrzejewski, the pet's owner, told police that Chesney returned from the groomer limping and with urine, feces and blood in his fur, court records show.
The groomer told Andrzejewski that the Maltese had bitten her and "needed to be put down," according to the charging documents.
When 4-year-old Chesney went to the groomers in June 2006, he was happy and healthy. But when his owner picked him up later that day, she says her maltese looked a mess.
"The dog was curled up in the back of the cage. It was soaked with urine, feces, it was wet. It had blood around the muzzle," said owner Darlene Andrzejewski.
On Tuesday, Rainone went before a Baltimore County judge, where she was found guilty of abusing Chesney.
Chesney's owners say the evidence was all over their dog.
"Bruises around his ear and he had strangle marks around his neck and bruises all around his head," Andrzejewski said.
Rainone accepted a plea agreement which Under the agreement, she agreed to withdraw her appeal of the prior convictions for animal cruelty and animal mutilation. A condition of her three years of probation in that case included the surrender of her grooming license.
Darlene Andrzejewski is finally satisfied. "I am happy because she does not get to touch another animal and that was our aim."
Source – WJZ
Email This Post
Like this post? Subscribe to my RSS feed and get loads more!