Dog Intentionally Drowned in Cedar River – REWARD!
Saturday, July 12th, 2008 at 9:30 am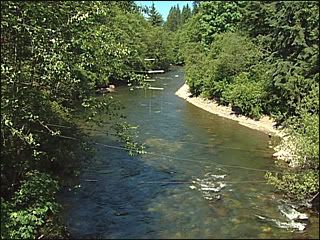 At this lovely scenic spot, Cedar River in WA, the 4th of July was marred after someone made a gruesome find. Some sick and twisted excuse for a human being cruelly ended the life of an innocent and defenseless dog there.
A one year old female pit bull mix was found bobbing in the water, a rope tied around her neck attached to an old gas can filled with concrete. When she was found, it was estimated that she had been in the water for approximated three days and she was most likely alive when dumped in the water.
Can you even imagine the horror, the agony, this poor dog went through, struggling, trying to get air as the water rushed around her anchored body.
(WARNING – GRAPHIC PHOTO BELOW!)
Found near the Landsburg Bridge in Ravensdale, King County Animal Care and Control is asking for the public's help in finding who did this and Humane Society is offering $2,500 reward for information leading to an arrest in the case.
"I can't even guess why somebody would feel that they had to do that to a dog,"
animal control spokeswoman Nancy McKenney said.
The agency said that someone first called around 7:15 a.m. to report the lifeless body of the pit bull. An animal control officer responded within an hour and saw the dog "literally bobbing up and down in the middle of the Cedar River," McKenney said.

The water was deep and swift, preventing the officer from wading in to pull the dog out.

Animal control called the King County Sheriff's Office Dive Team, but the unit was busy because of the holiday and unable to respond.

Later that afternoon, a fisherman on the river pulled the animal's body from the water and placed the dog on the riverbank, and called animal control. (seattlepi.com)
"Somebody might have heard somebody brag about this, or somebody knows someone who had a black and white pit bull, and now they don't have it any more," she said.
When the dog was examined, it had no other injuries showing that she had been a healthy dog prior to being cruelly killed.
Intentionally killing an animal is a class C felony. Anyone with information is asked to contact animal control at 206-296-3958.
Please, if you know anything, call animal control! Anyone who could something so cruel and depraved is just a short step from violence against people. It may be someone you love next time, a child, a friend, a family member. As horrible as this is, it can get worse!
Email This Post
Like this post? Subscribe to my RSS feed and get loads more!