Dog-Kicking Trooper Policing Again
Friday, July 11th, 2008 at 7:58 am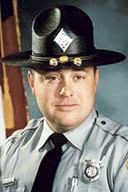 You all remember ex-Trooper Charles Jones, the NC trooper that was videotaped hanging and kicking his K-9 partner? Well, after being fired in September 2007, he sued to get his job back and a judge recommended that he be reinstated but the final word is not in yet.
Well, it looks like Jones is back on a police force and actually has been since four months after he was fired from NC State Highway Patrol in September of 2007. He's now with the Apex, NC police department as a patrol officer.
I find it funny that in the media storm surrounding the case, which included him suing to get all his back pay from the job he was fired from, it was never mentioned that he had already been hired by another police department.
So now he's making almost 40K a year, about two-thirds of what he was making as a trooper at 60K. He been working for Apex PD for months now, he wants his trooper job back and the pay since September. If the Office of State Personnel follows the judge's recommendation, what exactly will it mean? Will he be getting paid twice over? Will he just quit Apex PD, the department that gave him a chance even thought he had been fired by NC state?
I'd also like to know why he wasn't brought up on animal abuse charges. Just because his was just one of many troopers who treated their K-9 partners in this manner to one degree or another, doesn't make it right. He was caught, on tape no less. In my mind, anyone with common sense should know better than to treat any living creature in the manner that Jones treated Ricoh.
This whole case still upsets me on many levels and for a number of reasons. What he did is against the law, there's no getting around that, regardless of who he is. Whether his firing was procedurally correct, I could not care less, it was morally correct. If anyone else were caught doing what he did, they would have been arrested and charged with animal abuse and if it were against a K-9 officer, they would have had the book thrown at them.
As far as I am concerned, the job issue is peripheral to the main issue, the animal abuse, and this is the issue which has never been adequately addressed. Guess it's still a waiting game for those of us following along with this story and I doubt that any of us will ever be satisfied with the outcome, as we seldom are with punishment meted out to animal abusers. 🙁
Email This Post
Like this post? Subscribe to my RSS feed and get loads more!