Dog Killer Gets Probation
Sunday, September 23rd, 2007 at 2:58 am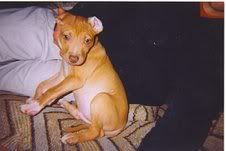 Charles J. Friel III, 22, of Allen Street in Philadelphia was given a sentence of probation in the beating death of a dog in his care. The dog's decomposing body was found in early December of 2006, still tied to a tree along Rancocas Creek near a marshland adjacent to Sylvan Court in the Water's Edge development. X-rays showed he had suffered skull fractures and broken ribs due to blunt force trauma. Who knows how long the poor dog
languished, suffering from his injuries until he finally succumbed to death?
An anonymous tip finally led the police to Friel who wasn't charged until months after the discovery of the dog's body. The dog, Rocky, a well loved, 5 yr old pit bull, was actually given into Friel's care in September, by his owner, who had no room to keep him at the time.
Friel, who pleaded guilty to a single count of animal cruelty was sentenced by Superior Court Judge James Morley in Mount Holly to 3 years of probation, community service, and fines. A pathetically lenient sentence for taking a life, even if it was 'only a dog!' What's it going to be next time? An innocent child? A defenseless elderly person?
Animal welfare groups who attended the hearing, needless to say, were not pleased with the lenient sentence.
"It certainly wasn't strong enough or harsh enough to deter other potential animal abusers," said Caryl Mackin-Wagner of the LBM Animal Abuse Awareness Fund in Laurel Springs, Camden County. "Animals deserve the same respect other living creatures deserve, and we would like to make sure that we prevent this from continuing because it is rampant."
And another person was also none too pleased with the outcome, Rocky's original owner, who said the sentencing was a "disgrace."
He kindly sent the pictures of Rocky you see scattered through the story.  What an absolutely beautiful dog and you can see the love and affection that he and Rocky shared.
"There isn't a day that goes by that I don't think about Rocky and with this sentencing, it has honestly made it even more difficult," he said. This I can understand only too well!
Below is a letter he wrote to the Delran DA right after the incident took place;
I apologize for this belated response to your letter, I have not had the opportunity to sit down and devote the time and consideration that I feel is necessary in order to convey the right message in regard to how this event has effected both me, my immediate relatives, and all of my friends, who were a great many, that had the chance to interact with Rocky on a regular basis. In hopes of relating such a message, I feel it would be more sensible to describe for you the many characteristics of my pet's personality, and how rewarding it was for me to have had the chance to care for him for so many years, rather than focusing on the event itself. It is difficult to imagine such a terrible thing happening to such a friendly, and defenseless animal. It is harder still to imagine any persons as being not only capable, but also fully willing to carry out such an action.

My friend and I picked up Rocky from a local breeder when I was nineteen years old; it was in December of 2001. I was living in a fraternity at the time at 32nd and Powelton in Philadelphia, on Drexel's campus, where I was attending school full time as an architectural engineering major. I was a little worried about raising an APBT, because I knew it required a lot of responsibility, but after doing some research I decided that that was the dog I wanted, mainly because of their innate athleticism and playful nature, which turned out to be the two characteristics of the breed that Rocky demonstrated most throughout his life. I lived with about twenty-five other students at that time, and as Rocky grew older they all got to know him very well, as well as all the new members that moved into the house during the four years we lived there together. I brought him along to all of our football and softball games and he could almost always be found running around at our barbeques we had in the spring and summer in our backyard on the basketball court, or digging through our horseshoe pit. Rocky was constantly looking for attention; he was very playful and would jump right into your lap if you gave him the chance even if he didn't know you. He used to love to put his paws over the wall on the balcony outside my bedroom on the second floor and watch people walk by all day long. He would always be waiting for me by my door or window when I got back from class. Eventually we decided to make him our mascot, he is pictured in the center of the Alpha Pi Lambda composite I am including with this letter. I brought him home with me every couple weeks to see my family, who adored him, or around holidays. He used to love to take car rides with me and always had his head hanging out my window. At the sight of one of my friends, or any person really, Rocky would often jump to the floor and roll over onto his back to have his belly rubbed. He loved to play with my parent's dog, Becky, and he loved children.

Shortly after I switched my major to Architecture, I moved into an apartment with some friends from school and Rocky and I lived off campus for a couple of years until eventually, I fell on a difficult financial situation and I was forced to find a temporary home for him until I got back on my feet. At that time I put Rocky in the care of my friend John and his parents in Horsham, who cared for him for several months and affectionately nicknamed him "Rockaroo". Rocky loved living in Horsham, where he had a big back yard and two fully grown rhodesian ridgebacks to keep him company.

I personally drove him to meet his new caretaker in September of last year, when John's homeowner's insurance company claimed to have a policy against having any dog of Rocky's breed on the property. Although I had no way of knowing how his new situation would turn out, which would ultimately mean a very violent and painful death at the hands of someone who clearly must be disturbed, I will always regret taking him there. Rocky was a little over 5 years old when he died, he was in my care at five weeks old, and in all that time, never attacked another human being. He did nothing but shower people with affection, and remain loyal and obedient to me during his entire life, and he became as much a member of my family, and was loved as much, as any other member.

It has always been clear to me, and should be clear to all people, that to hurt any animal, unless in self-defense, is an act of complete, and total cowardice. I will not pretend to be someone with a special understanding of human behavioral issues, or someone with a background in psychiatry. Regardless of my profession, or background, it is also clear to me that for someone to do something to an animal, like that which has been done to my dog, they're would have to be something wrong with them. Too often do we see things like this in the media only to watch those responsible receive a slap on the wrist. In the words of St. Francis of Assisi, "If you have men who will exclude any of God's creatures from the shelter of compassion and pity, you will have men who will deal likewise with their fellow men".
Even with this outpouring of love and devotion for Rocky by the man who raised and loved him, that pathetic excuse for a human being got a sentence of probation!! What is it going to take? When is our judicial system going to get serious when it comes to these vicious and violent perpetrators of abuse? This crime carried a maximum penalty of five years jail time… Rocky got a death sentence… Friel got a 'slap on the wrist.' Where is the justice in that?!?!
Source – Courier Post, Burlington County Times
Email This Post
Like this post? Subscribe to my RSS feed and get loads more!