Dog Lovers Unite in Support & To Raise Money for Disabled Dog's Surgery
Monday, June 23rd, 2008 at 9:06 am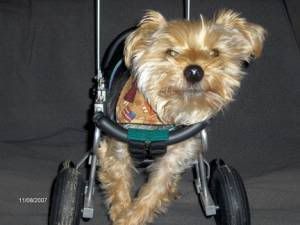 Meet Babybear! This little three year old Yorkie has had more than his share of problems starting with a broken neck.
Born with AAI – Atlantoaxial Instability – he was more fragile than anyone knew. AAI is a condition in which the first two cervical (neck) vertebrae are not firmly attached. Normally, the atlas (the first cervical vertebra) and the axis (the second cervical vertebra) are attached by a group of ligaments. They are further stabilized by a prominence on the axis called the dens that protrudes into a hole in the atlas.
Dogs with congenital atlantoaxial instability are born without ligament support to their atlantoaxial joint, and may also be born without a dens. Trauma to the neck can also cause tearing of the ligaments or fracture of the dens, resulting in atlantoaxial instability.
Atlantoaxial instability can lead to cervical spinal cord injury, the symptoms of which include: neck pain; a drunken, staggering gait; paralysis of all four legs; or sudden death.
Prior to Babybear's accident on June 29, 2006, vets though he just had a pinched nerve in his neck because AAI is not common or easy to diagnose, so they sent him home with some pain meds. I'll let Baby Bear tell you what happened next;
This was until that bad day I jumped off mom's lap. Mom says I jumped and let out a heck of a scream. It was so weird it scared her. She looked down on the floor and I was having a seizure then all of a sudden I was stiff as a board and my tongue was all blue. So dad started giving me mouth to mouth. Mom and dad ran to the truck and rushed me to the hospital. When we got there mom took me from dad who was still breathing in my mouth and ran into the dogtors with me crying to save me. They said one more minute and I would have never of been able to survive. The dogtors did all kinds of tests to see what was wrong with me xrays, and bloodwork. Mom had to wait outside and the dogtor came and asked her if she wanted everything done to save me. She said of course. So they kept me alive.
Initially diagnosed with liver shunts, the vet advised putting Babybear to sleep. Over the long weekend his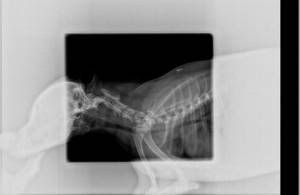 human parents talked and cried, they said good-bye and felt the end near. An appointment was even made. Then they decided to get a second opinion and the vet they took him to diagnosed him with AAI and a very bad broken neck.
The vet said that with surgery Babybear had a very good chance and was actually amazed he'd made it through the weekend with the undiagnosed broken neck. Then his parent had to find some way to come up with the money for surgery. Miraculously they managed.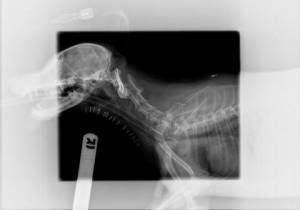 After surgery came therapy, water therapy, acupuncture, a wheelchair and learning to walk again. It wasn't easy but with love and help from friends, Baby Bear was doing pretty good…. until this month.
Babybear was in pain and after vet visits and x-rays, it was determined that the pins in his neck had moved and were pressing again some nerves. He is going to need surgery again. At the time of the initial surgery it was thought that he would be able to walk afterwards but he didn't and now they think and hope that he may be able to after this one. The problem is that the cost of the initial surgery wiped his family out financially.
He is scheduled to be examined on June 25 and have surgery the same day. The doctors want half the cost upfront and to make matters even worse, they cannot even give a ballpark figure how much the surgery is going to cost until he is examined on the day of surgery.
Since Babybear's accident and surgery, he and his family have worked hard to tell people about AAI and educate them. It has become a mission and vocation.
Now Babybear's friends and fellow Dogsters have come together to lend their support to him and his family and to try to raise money for his surgery. They are collecting items to auction on eBay.
If you like to visit Babybear on Dogster, you can find out more about him HERE. There are many videos and pictures as well as much more information. If you're interested in helping or finding out more about what so many are doing to help the little guy, visit his Support Group HERE. You heart will be touched by all the love!
Check out the video of him below, his first day in a new wheelchair. What a strong willed little guy he is, so full of love and life and happiness!
Babybear's first day in his new wheelchair
UPDATE on Babybear – 6/25/08
Babybear had his surgery and there is good news and bad news.  The good news is that the surgery went fine and Babybear is doing better with the pin removed that was pressing against the nerves in his neck.
The bad news is that the doctors were only able to find and remove one of the two pins during surgery.
The one pin they couldn't find during surgery is up around Babybear's skull. They will have to do an MRI to find out where it is.
If it is above the skull they would be able to do a small incision and remove the pin, if it is below or lodged under the skull they will have to do brain surgery to remove it.  If they leave the pen there is a possibility it could cause neurological problems.
UPDATE – 6/26/08
The MRI was done and the repost is 'Inconclusive.'  At this point there are sending it to a specialist.  I'll update you as I hear more.
Email This Post
Like this post? Subscribe to my RSS feed and get loads more!