Dog May Die for Protecting Family
Friday, November 9th, 2007 at 6:13 am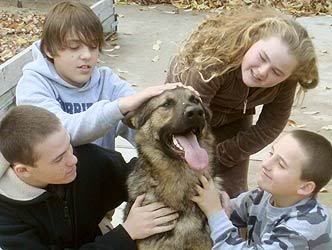 UPDATE – 11/12/07 – Please see the latest update – HERE
RALLY TODAY 11/13/07!!
RALLY TO SAVE CONGO – The Coalition to Save Congo, plans a rally at 400 Witherspoon St., beginning at 10 a.m. Tuesday
This story is such an injustice!!To say that it makes me angry is an understatement! You can read the story details HERE!
This is the basic outline of the story:
Two landscapers/gardeners, illegal immigrants, were working at the family's house
They arrived an hour early
They were told by the husband to stay in their truck until he could get out of the shower and get some clothes on and put the dogs away
The husband speaks Spanish and spoke to them in Spanish so there is no question they understand what they were told to do
They directly disobeyed the husband and walked into the yard where the wife had just pulled into the driveway
The two adult German Shepherds and their puppies came running
The gardeners panicked
ONE GARDENER GRABBED THE WIFE AND WRESTLED HER TO THE GROUND, USING HER AS A PROTECTIVE SHIELD
Congo thought his owner was being attacked and went after the gardener
The gardener used his rake to beat at the puppies and inflicted some injuries on them
The gardener changed his story three times (interesting note on official bias: when the owner said the gardener changed his story five times, the dog warden said "No, he only changed his story 3 times.")
Here's what I have from New Jersey 101.5 Radio Station
In Princeton, a family dog, Congo, has been declared "vicious" by municipal Judge Russell Annich Jr.. Because of this, he may be ordered put to sleep, this coming Tuesday. His crime? A landscaper came onto the property of the dog's owner, Guy and Elizabeth James, after being told to wait. Congo and the family's other dogs started to bark. One of the landscapers' started hitting the dogs with a metal rake. Elizabeth James started to yell at him to stop. So, the landscaper grabbed Elizabeth, from behind, and pulled her to the ground. Congo, thinking that his owner was being attacked, did what ANY good dog should do. He tried to protect his owner. The landscaper was bitten, and injured, as he should have been. Now, for being a good dog, Congo might be put to sleep. Should Congo be put to death for protecting his family?
The radio station was doing a poll on this and when I last checked, over 95% say that Congo should NOT be put to sleep, that he was only doing his job. What do you think?
If you think this dog, Congo should be spared, here's what you can do, and quickly please!! He's only got a few days!
Help save Congo!
Please email Judge Annich and show your support for the James family and Congo by coming to a rally at the Princeton Township courthouse on Tuesday, November 13th, at 10 AM.
The address for the Courthouse is 400 Witherspoon Street, Princeton, NJ 08540
Russell W. Annich, Jr. – Judge
Email Judge Annich in care of the Court Administrator:
caroline_sapio@princeton-township.nj.us
fax letters to 609-924-5902
You can read the full text of the story written by The Times, November 8 edition HERE.
You can bet I will be sending an email as well as a link to this article posted here so please leave comments and get the word out! We need as much response as we can get ASAP!!!
RALLY TO SAVE CONGO – The Coalition to Save Congo, plans a rally at 400 Witherspoon St., beginning at 10 a.m. Tuesday
Email This Post
Like this post? Subscribe to my RSS feed and get loads more!