Dog Owner Faces Same Charges as Mock, 'Dog Killer for Hire'
Sunday, September 7th, 2008 at 9:17 am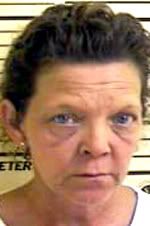 See Update – 10/1/08 – Two in 'Dog Killer for Hire' Case Sentenced
Connie Vanderheiden, 48, of Havana, IL, will face the same felony animal cruelty charge as Freddie Mock, the 'dog killer for hire'. Vanderheiden paid Mock $25 to kill her dog after a rescue could not take it because had bitten someone and was not adoptable.
She was advised to take the dog to a vet to have it humanely euthanized. Guess she figured she could save herself a few buck since Mock was only charging $25 and a vet would charge $30-$35. Real nice woman, eh?
Vanderheiden claimed in Mason County court on Thursday that she was placed in contact with Mock by her nephew and she thought he would give her dog a shot to kill it. Wonder if she really cared? Doubt it! She just wanted the dog dead!
Public defender, Roger Thomson, argued with the judge, Judge Thomas Brownfield, to dismiss the charges against both Vanderheiden and Mock on the grounds that the Illinois Department of Agriculture regulations don't prohibit euthanization in the manner that Mock employed.
Brownfield said Thomson will have to prove at trial that the Department of Agriculture guidelines recognize and approve the method Mock used to kill the dog.
Vanderheiden pleaded not guilty at the hearing and Mock pleaded not guilty at his hearing on 8/22 after turning down a plea deal.
Mock and Vanderheiden's jury trials are scheduled for Oct. 14.
I just cannot believe anyone could possibly think this, killing a dog by hitting it in the head with a hammer and leaving it to suffer, could be seen as anything as vicious and cruel and someone paying someone for it is just a guilty and the person taking money to do it!
Email This Post
Like this post? Subscribe to my RSS feed and get loads more!