Dog Really is Man's Best Friend – Dials 911 After Man has Seizure
Monday, September 15th, 2008 at 7:20 am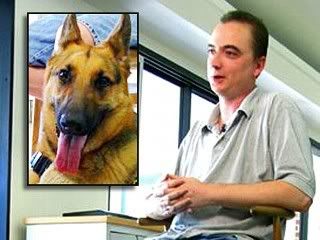 Buddy, Joe Stalnaker's trained German Shepherd service dog, proved once again he really is man's best friend. Not for the first time, Buddy dialed 911 when Stalnaker had a seizure.
Buddy, adopted by Stalnaker at 8 weeks old from Paws with a Cause, was trained to get to a phone when Stlanaker had a seizure and now, at 18 months old, Buddy can hit preprogrammed buttons for 911 and get an emergency operator on the line.
On a recording of the 911 call Wednesday, Buddy is heard whimpering and barking after the dispatcher answers and repeatedly asks if the caller needs help.

"Hello, this is 911. Hello … Can you hear me? Is there somebody there you can give the phone to," says the dispatcher, Chris Trott.

Police were sent to Stalnaker's home, and after about three minutes Buddy is heard barking loudly when the officers arrived.

"It's pretty incredible," Clark said. "Even the veteran dispatchers — they haven't heard of anything like this."

Clark said police are dispatched whenever 911 is called, but that Stalnaker's address was flagged in Scottsdale's system with a notification that a trained assistance dog could call 911 when the owner was incapacitated. (ABC News)
So Stalnaker was rescued and spent a couple days in the hospital and is fine now, thanks to his best friend, Buddy.
You just gotta love it! Again and again dogs prove themselves not only our best friends, but heroes as well.
Email This Post
Like this post? Subscribe to my RSS feed and get loads more!