Dog Refuses to Abandon Kittens as House Burns – VIDEO
Monday, October 27th, 2008 at 6:57 am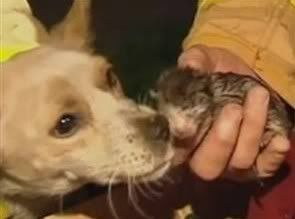 No one must have told this little terrier-mix dog, Leo, that dogs and cats are supposed to be natural adversaries.
When a fire broke out in their Melbourne, Australia home, four family members and another dog escaped to safety. Little Leo stayed in the house in one of the bedrooms guarding a box containing four newborn kittens despite the heavy smoke and heat.
When firefighters found him, he had succumbed to the smoke but they managed to revive the little hero with heart massage and oxygen.
"Leo wouldn't leave the kittens and it nearly cost him his life," fire service Commander Ken Brown told reporters.
Leo and the kittens are all safe now. What a brave little hero dog! Way to go Leo!!
Email This Post
Like this post? Subscribe to my RSS feed and get loads more!