Dog Savagely Beaten with Sledgehammer, Arrest Made
Thursday, December 4th, 2008 at 9:54 am
See Update – 12/9/08 – Murphy is Going Home Today!
On Tuesday morning, a man walking his dog in Murphy Candler Park, DeKalb, GA, made a gruesome discovery, a savagely beaten dog wrapped in a blanket and a bloody sledgehammer.
Someone had beaten the dog's head in with the hammer and left the male, 3-5 yr-old, shepherd mix dog to die a horrific painful death.
Robert Kennedy, the man who found the dog barely clinging to life, named him Murphy after the park and took him to get emergency care at VCA Pets are People Too.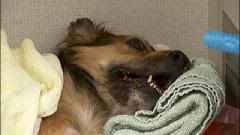 "Whoever did this to a dog is just awful," Kennedy said.
Murphy had surgery yesterday, he lost one of his eyes and Dr. Stephen Pope said the dog came through surgery "like a champ" on Wednesday and may not suffer permanent brain damage.
Turns out the person who brutally beat Murphy was the dog's owner, Joseph Waters, 48.  No reason or motive has been given for the horrific crime but Waters had been arrested and charged with felony animal cruelty for the crime.
Robert Kennedy, the Good Samaritan, not only rescued Murphy and took him for care, he is also taking responsibility for the dog's medical bills. He has set up a trust fund at Wachovia Bank and anyone wanting to make a donation can do so at any Wachovia Bank in the name of 'Murphy the Dog.'
Now this story shows you two such different sides of humankind that it's almost hard to fathom.  One 'man' graced with the gift of a canine companion, loyal and loving, brutally beats the dog almost to death.  Another man, a stranger, takes responsibilty of not only saving the dog but of making sure that the dog will get the medical care he needs to hopefully recover.
Although Waters makes us grieve for mankind, Kennedy restores our faith. Hopefully Murphy will recover and be adopted into loving hands such a Mr. Kennedy if not Mr. Kennedy himself.
As for Waters… well, you can imagine my thoughts there… He'll be in court later today so we'll see if more information comes out and I'll update the story.
**UPDATE**
As of today, 12/4/08, Murphy is up and walking.  Turns out that initial estimate of his age, between 3-5 yrs-old was off, he's actually about 9 years old.  Now they are working to get him to eat.
The dog suffered a fractured skull, injuries to his stomach and esophagus and a damaged eye that was removed during surgery Wednesday. Doctors are concerned about the injuries to Murphy's stomach and esophagus, because the dog can't keep food down.
So far Murphy's medical expenses have topped $3K and may exceed $6K but his savior, Robert Kennedy will make sure they are covered if not by donations, then out of his own pocket.  He does plan to adopt Murphy once he's recovered.
Investigators are still looking for people who saw anything unusual in the park from 9 p.m. Monday until 7 p.m. Tuesday. Witnesses should call 404-294-2818.
Email This Post
Like this post? Subscribe to my RSS feed and get loads more!